The Local B Bus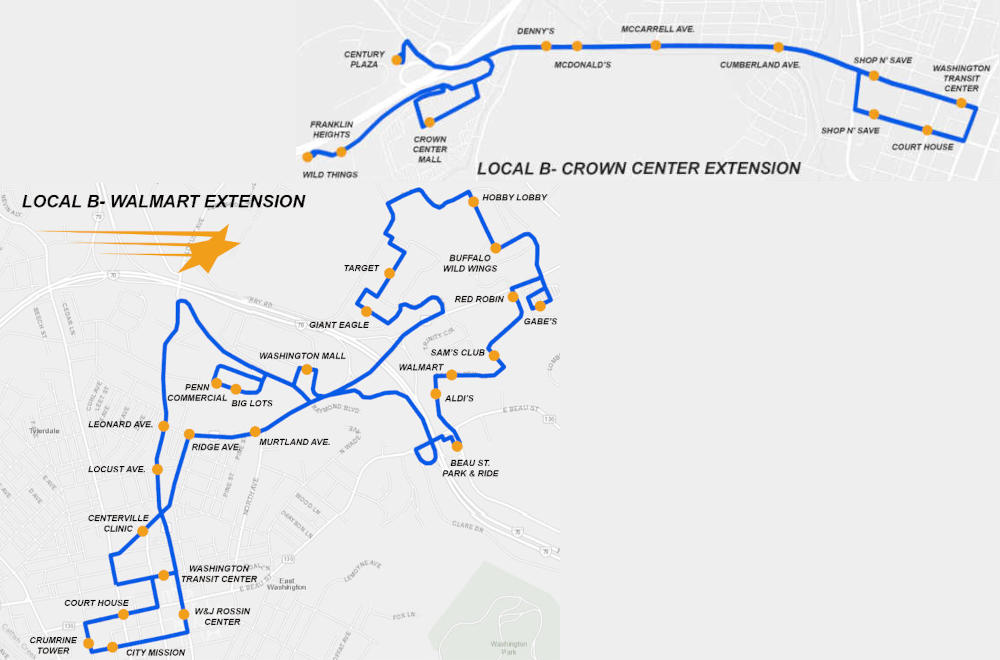 Take the Local B Bus to get to shopping centers. The bus leaves the Transit Center 7 times a day. It also stops at apartment buildings, a supermarket, college, technical school and doctor's office.
The first leg of the Local B route loops through downtown Washington before heading to Washington Crown Center. It stops at:
The Local B returns to the Transit Center.
The second leg of the route hits the other shopping centers and make other stops along the way:
Crumrine Tower, an affordable housing community
Washington & Jefferson College's Rossin Center, which has a campus store, meeting rooms, dining and offices for student services
Oaksprings Plaza, for Penn Commercial Business/Technical School, which provides trade and technical programs, medical programs, spa and salon programs, and CDL training
Beau St. Park & Ride
Trinity Point has a Walmart, Sam's Club, Dollar Tree, Verizon Wireless store, haircut place and several eateries.
Northgate Plaza has a Gabe's and two restaurants.
The Old Mill Shopping Center has a dentist office, hearing aid store, hair cut place, Field & Stream, Hobby Lobby, Five Below, a gym, other retail stores and offices, and five eateries
Strabane Square has a Giant Eagle, Target, Kohl's, Michael's, Lowe's, Dick's Sporting Goods, Dollar Tree, a PNC Bank, AT&T store, other stores and two restaurants
Washington Mall. While the mall is largely defunct, Home Depot, Harbor Freight, Grand China Buffet & Grill, and Staple's operate on outparcels
Centerville Clinic is a doctor's office
The bus returns to the Transit Center. The entire run takes about an hour and fifteen minutes.
The first run picks people up at Henderson Avenue and Regent Drice at 7:00 AM. The first full run leaves the Transit Center at 8:15 AM. Other departure times from the Transit Center:
9:45 AM
11:15 AM
12:45 PM
2:55 PM
4:15 PM
The last depature is at 5:45 PM.
Riders don't have to be at a defined bus stop to get picked up. They have to be on the side of the road that the bus is traveling and wave their arm so the bus driver sees them.
Transferring from the Local B to the Local A at the Transit Center takes people to the Washington Senior Center at no extra cost. This is especially helpful for seniors who live at Century Plaza and depend on the bus for transportation. Local transfers don't cost.
The only time a bus transfer costs is when someone transfers from the Local A or Local B to a higher fare route – the Metro Commuter or County Line bus route.
A one-way fare on the Local B is $1.50. The price is less when a package is purchased in advance. The Port Authority of Allegheny County's ConnectCard can also be used. Children under 12 and seniors ride for free. People on Medicare or who have a disability ride at half-price.
Freedom Transit is a public agency that operates local and county bus routes, shared ride services and a commuter bus to downtown Pittsburgh. Buses run Monday through Saturday from 6:00 AM until 8:00 PM except on major holidays.
This article was published in