Washington's Pioneer Aviator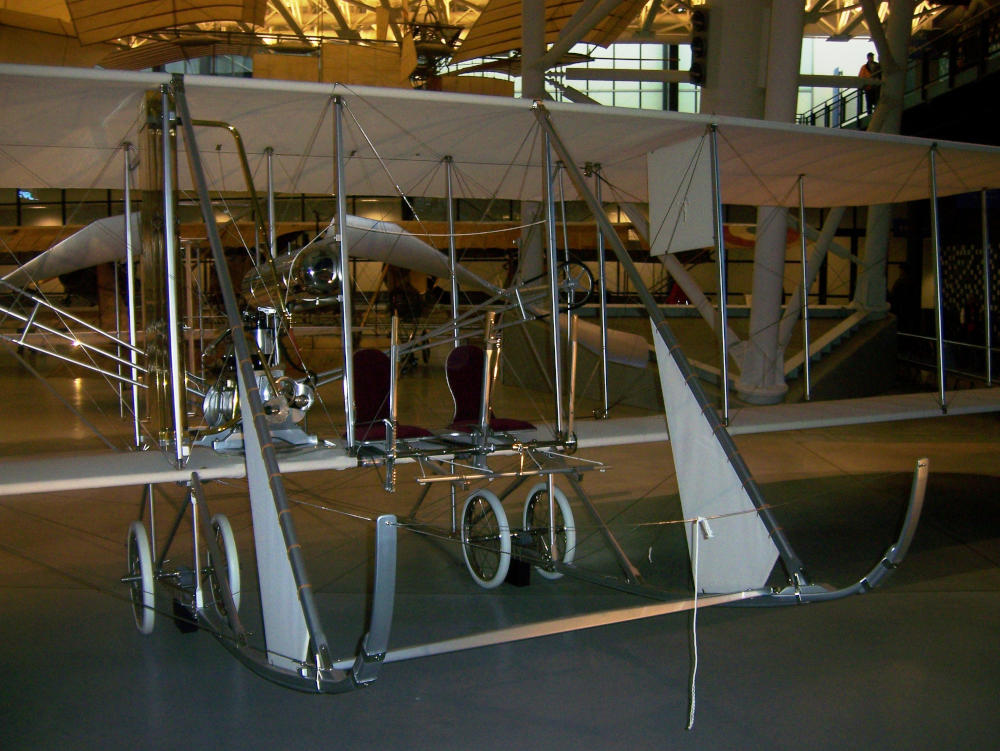 Washington's DeLloyd Thompson piloted a plane higher than anyone else had, flew fast & performed amazing loops, drawing large crowds as an exhibition pilot during the early years of aviation. It didn't go so well when he founded an airplane manufacturing company.
Born in the late 1880s in Buffalo Township, just west of Washington, PA, Thompson was drawn to auto racing during its early years. Just a few years after the Wright Brothers flew the first successful motorized airplane, DeLloyd Thompson turned from racing cars to flying planes.
American loved her exhibition pilots in the 1910s & couldn't get enough of groundbreaking aviators like Thompson pushing the boundaries for money & glory. Large audiences watched those pioneering pilots perform stunts, make displays & race each other through the skies in planes built of wood & canvas.
At first, Thompson taught people to pilot the new aircraft. Soon, he was an exhibition pilot who entertained crowds at fairgrounds & the Chicago International Air Show with bold flying maneuvers. His plane was a 1911 Model B Wright Biplane. Biplanes had two pair of wings, one above the body & one under it. It was a common design for early airplanes. As an instructor, Thompson's plane also had two sets of controls – he could override whatever a student pilot did.
Thompson's exhibitions included stunts at Indianapolis involving his plane & cars. He flew low over cities. He became the second American to perform an aerial loop. In a loop, a pilot takes a plane straight up, inverts it at the top so they are upside down, then continues turning the plane until they're headed in the same direction again. He became the second pilot to write words in the sky with smoke long before skywriting became a popular mass advertising medium in the 1930s & 40s.
Just how high could an airplane fly? In the summer of 1914, only eleven years after the Wright Brothers' first powered flight, Thompson put on warm clothes & an altimeter, which measures altitude or height. He climbed into a Day-Gyro plane such as he had piloted before. He flew 15,266 feet up – almost three miles. He set a record. The plane ran out of fuel. He used a spiral glide to return safely to the ground.
DeLloyd Thompson had become a well-known pilot.
World War One broke out in Europe in 1914. For several years, most Americans – & President Woodrow Wilson – leaned towards neutrality in that conflict. DeLloyd Thompson felt that American cities were vulnerable to being attacked by air. In 1916, he bombed Washington, D.C., to make a point. The bombs contained harmless magnesium flares. As the flares lit the sky, Thompson looped the loop as any exhibition pilot would. Thousands of packets were dropped asking, what if instead of a message it contained nitroglycerin?
Thompson returned to Washington, PA. His last exhibition was at Arden Downs, a ½-mile oval dirt racing track at the Washington County Fairgrounds. It was the first exhibition of airplane stunts in Washington County. He was 29.
He operated a coal mine in Washington County.
He ran a construction company that built Sunset Beach, a pool & drive-in in Claysville that closed in the early 1980s.
When economic indicators showed the U.S. was heading out of the Great Depression – spoiler alert: the depression wasn't over yet – Thompson designed a two-seat monoplane called the DeLloydCabinaire. A monoplane has only one pair of wings. In 1937, he flew his new plane himself in a demonstration at the Meadowlands. His company manufactured just two DeLloydCabinaires before failing. It was Thompson's last flight.
He ran for mayor of Washington in 1939 & lost.
An automobile accident in 1945 seriously injured him.
DeLloyd Thompson – born David Lloyd & nicknamed Dutch – died in his sleep from heart failure in 1949.
Later the same year, the DeLloyd Thompson Memorial Gates were dedicated at the Washington County Airport. The airport was renamed the DeLloyd Thompson Memorial Field. Five thousand people showed up for an airshow in Thompson's honor. Plaques on the gates were vandalized, removed from the airport & restored years later to commemorate the area's pioneer aviator.
This article was published in