Washington Trust Building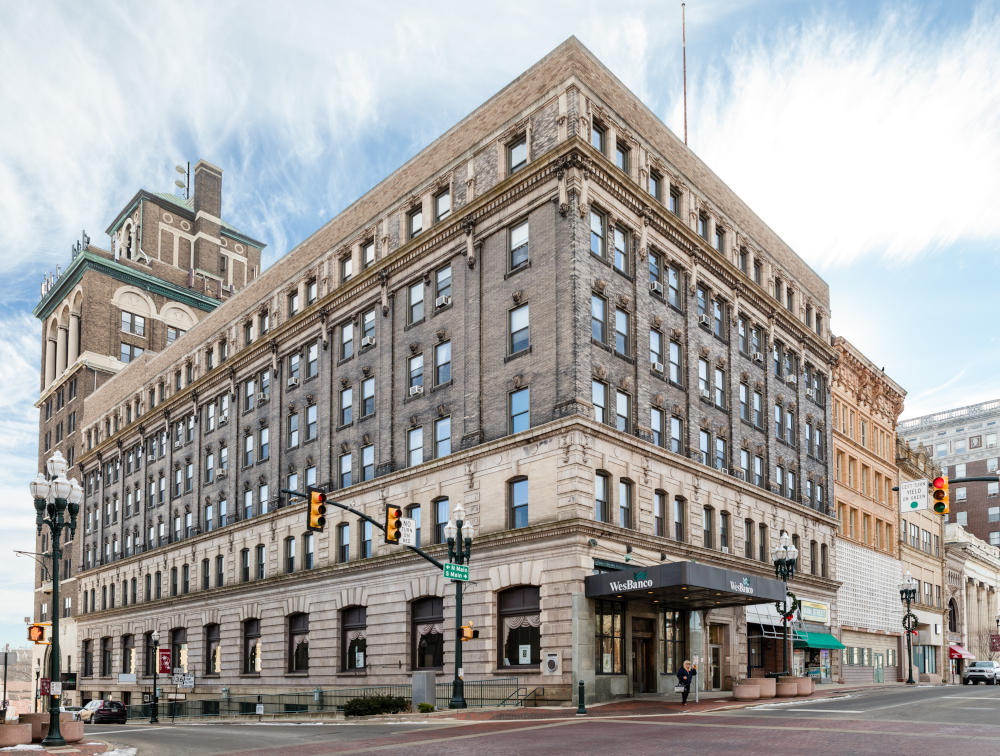 The Washington Trust Building is an historic commercial building in the main business district of downtown Washington, PA.
In the early 1900s, booming coal and oil extraction in southwestern Pennsylvania created a growing banking sector. The Washington Trust Company was formed by acquisitions of and mergers with other financial institutions. The new company needed more space. The Washington Trust Company Building was built 6 stories tall in 1903 to be its headquarters. In 1927, an addition made it ten stories. It was the largest commercial building in the city.
The building was constructed in the Beaux Arts style, the same architetural style of the Washington County Courthouse. Beaux Arts architecture was taught in Paris in the 19th century. It drew from the principles of French neoclassicism, incorporated Gothic and Renaissance elements, and used modern materials, including iron and glass. The Washington Trust Building featured classic architectural detail with marble and oak finishes.
The trust company failed in the Great Depression and closed in 1931. The building was owned by a succession of banks. It was home to many professional offices. In 2013, it was sold to a Pittsburgh development group, Trek Development.
Trek is a specialist in restoring historic buildings in the region. The redeveloper placed the building on the National Register of Historic Places. "We respect the fact that it's an icon for the city," project manager Vanessa Murphy told the Observer-Reporter.
The cost of the project was $10 million. The Pennsylvania Housing Finance Agency provided tax credits. City Council approved a low-interest loan.
The restoration preserved the exterior masonry while a facade returned the building's original look. Roofs and windows were replaced. Existing terrazzo flooring was salvaged. The original wood and glass in the offices was maintained where possible for the historical integrity of the building. An adjacent garage structure was rehabilitated.
Following its renovation, the Washington Trust Building offers one-bedroom apartments at affordable rates for working people and qualifying seniors. Amenities include a fitness center, business center, a community room and free outdoor parking. Multi-office use and store fronts ranging from 200 square feet to 6,000 square feet, and offer parking lease options, a controlled access building with a renovated common lobby.
The Washington Trust Building is located at the corner of S. Main Street and E Beau Street, across from the Washington County Courthouse. The address is 6 South Main Street, Washington, PA 15301.
This article was published in