Washington Oil Field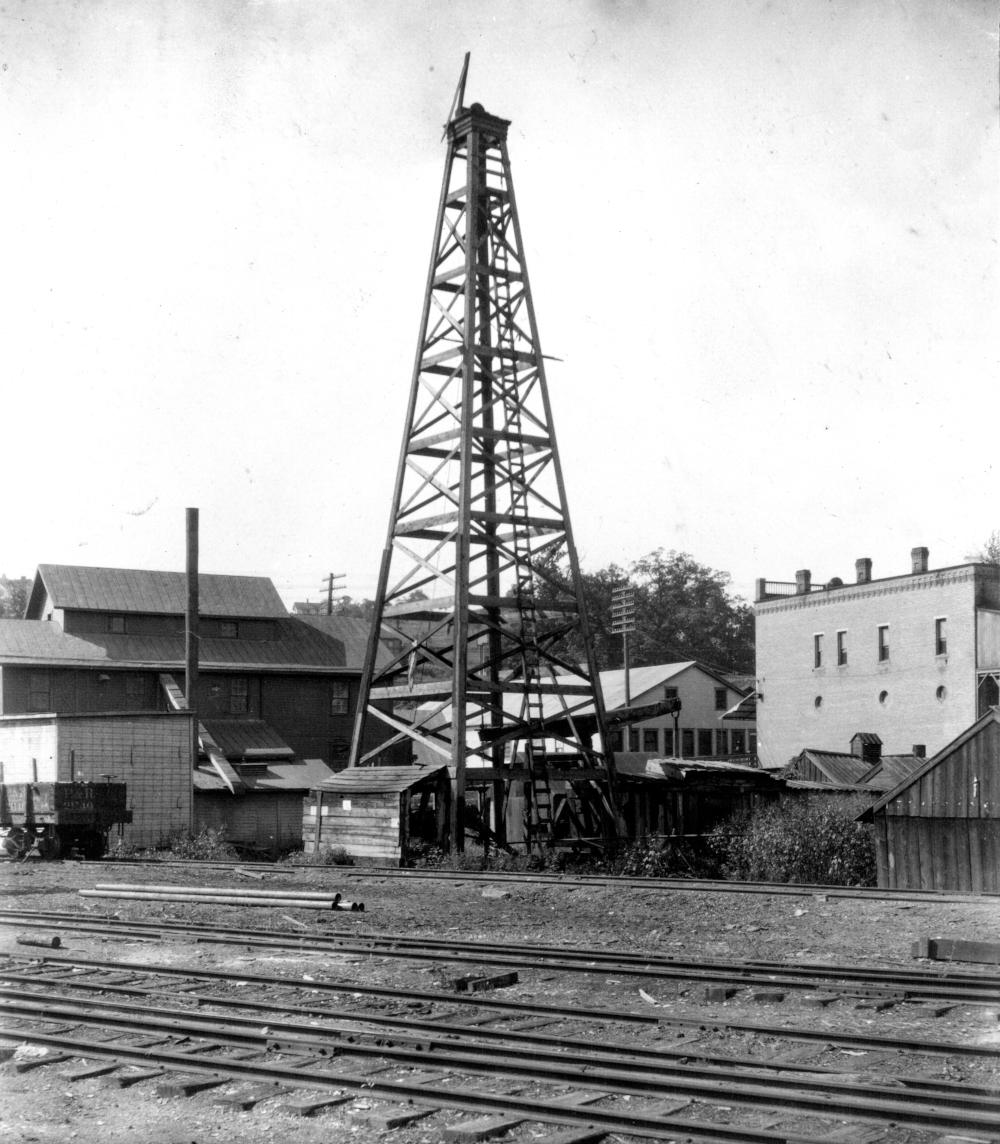 At one time, Pennsylvania was the center of oil production in the world. The Washington Oil Field, in Washington, PA, was an important part of that.
During the industrialization of the U.S., the discovery of oil provided a new source of fuel. Oil become one of the most valuable commodities in the country.
The oil boom started in Titusville, PA, and moved south past Pittsburgh into Washington County. The development of oil and gas fields in southwestern PA accelerated in 1882 when the McGugin Gas Well was drilled. The well was located northwest of Washington along Henderson Road (PA 18) at Caldwell Road, just south of PA 50. It produced the largest flow of gas in the world at the time. The gas was piped to Pittsburgh to provide light and heat. An historic marker was dedicated in 1967 at the site of the well. The marker is no longer there.
Although the wells around Washington were drilled for gas at first, oil was discovered in exploratory wells in 1884, followed by oil gushers. By 1886, daily output in the area reached 20,000 barrels. Massive flows of crude brought more exploration of oil. The oil boom in the region lasted for two decades. Oil production dropped significantly in the early 20th century. The last oil was shipped from the Washington Oil Field in 1916.
People who grew wealthy in the oil & gas boom built homes in East Washington. The Washington Oil Field boom fueled the growth of downtown Washington. Shortly after the oil field boom had peaked, the Washington Trust Company Building was constructed.
The search for oil extended past Washington into neighboring Greene County and down the Ohio River to central West Virginia. Pennsylvania production came to be surpassed by Texas, California and Oklahoma.
Initially the growth of the oil and gas industry was driven by the demand for kerosene and oil lamps. Later, the popularity of automobiles with internal combustion engines created the demand for petroleum products that continues today.
In the closing years of the 20th century, the hydraulic fracturing process was developed. The method lowered costs, creating a new boom in North American oil and gas production. The most important region in the boom was Marcellus Shale, which includes most of Pennsylvania. The Washington Oil Field is located in the Marcellus Shale region. Washington County became central to the rebirth of the resource extraction industry.
This article was published in