Washington Italian Festival 2022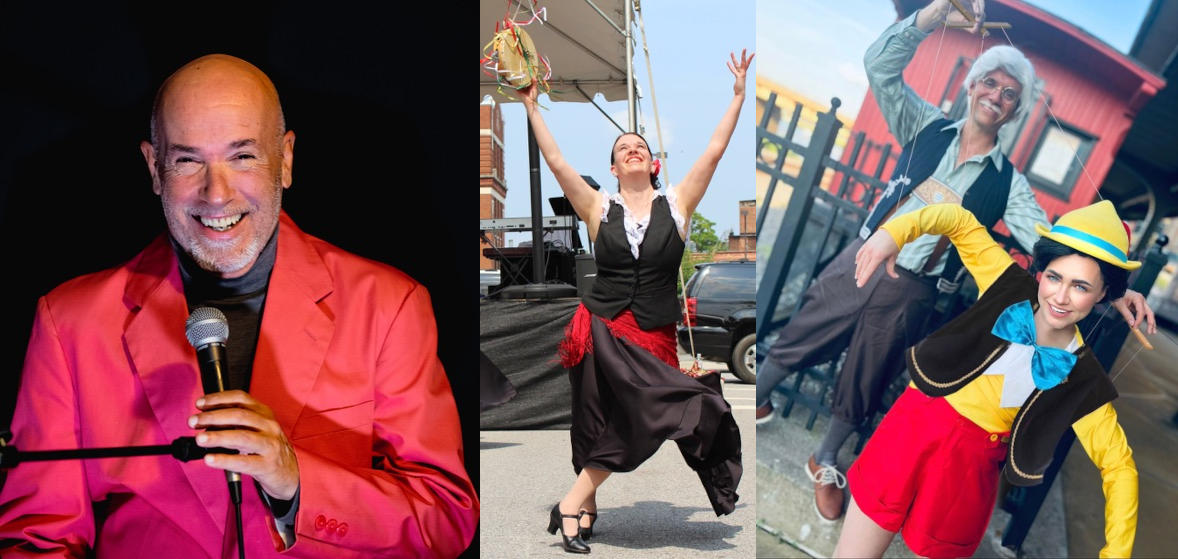 The Italian Heritage Festival starts with a concert Friday night and continues through the day on Saturday with entertainment, activities, food and beverages. Italian food businesses will be honored.
On Friday night, September 22, the 6th annual event starts with Shades of Time performing a free concert from 6:30 PM to 8:30 PM. Beer and wine will be sold.
Food, drink and vendor booths will be open on Saturday from noon to 8:00 PM. There will be performances for adults. Children can enjoy face-painting, a meet and greet with Pinocchio and Gepetto, balloon art and storytelling. DJ Jon Ridge will emcee and supply Italian music.
Noon: Opening Ceremonies with a blessing by Father Carmen D'Amico, Presentation of Colors by Young Marines and the National Anthem by vocalist Patrick Arena.
12:30 PM: Commissioner Diana Irey Vaughan will recognize Italian Heritage Honorees.
1:00 PM: Vocalist Patrick Arena and guitarist Mark Lucas will perform a 30-minute set.
1:45 PM: Allegro Dance Company will have everyone on their feet as they perform Italian folk dances.
2:30 PM: Adam Brock will sing classic hits.
4:00 PM: Mirella the Musician will bring her vocal, piano and accordion skills to Italian-American songs.
5:00 PM: The Washington Symphony Orchestra's Brass Quintet will perform a medley from soundtracks of 1960s Spaghetti Westerns, Triumphal March from Aida and Theme from Cinema Paradiso.
5:30 PM: Italian Cooking Competition: Best Meatball Edition with celebrity judges.
7:00 PM: Washington Jazz Orchestra will perform Italian and jazz favorites.
Italian Foods
This year's festival will recognize restaurants, grocers and other food businesses founded by Washington's Italian immigrants and their descendants.
People will be able to enjoy a variety of Italian foods, as food vendors will sell different specialties:
Ala Maria's
Chicco Baccello
Grande Jr. Pizza Express
Julian's Catering
Krency's Bakery and Catering
Mechanic Coffee
Oliva E Fig
PG Sweet Treats
Regional Flavors Catering
Roland's Trattoria
Sons and Daughters of Italy
Upper Crust
Beverages
Italian-inspired adult beverages will be available from:
BDI
J & D Cellars
Liberty Pole Spirits
Red Fox Winery
Red Pump Spirits
The Washington Winery
Children's Activities
1:00 PM: Cheerful Balloon Company
1:30 PM: Meet and Greet with Pinocchio and Gepetto on the Children's Stage
2:00 PM: Face painting
3:30 PM: Storytelling by Alan Irvine on the Children's Stage
5:00 PM: Storytelling by Alan Irvine on the Children's Stage
Closing
About 35,000 Washington County residents are of Italian origin – one in 6 people in the county. The arrival of Italian immigrants was part of the explosive growth in Washington's population in the early 20th century.
Italian immigrants' photos and documents can be scanned to keep the history of Italian heritage in Washington County alive. Remembering Their Lives: Stories of Italian Immigrants to Washington, Pennsylvania, which features the stories of local families, will be available for sale.
The curator of the Italian American Collection at Heinz History Center, Melissa Marinaro, will tell stories about Italian-American history in Western PA.
The Washington Italian Festival is organized by the Sons and Daughters of Italy Primo Italiano Lodge #2800, which promotes Italian social and cultural events, and awards college scholarships to eligible students.
Recipes will be collected for the lodge's Italian Recipe Cookbook.
Everyone can enjoy a day of Italian heritage at the Washington Italian Festival on September 23 and 24. The entertainment at the Community Pavilion is free. Italian food and beverages are waiting to be enjoyed.
This article was published in