All About The Washington County Airport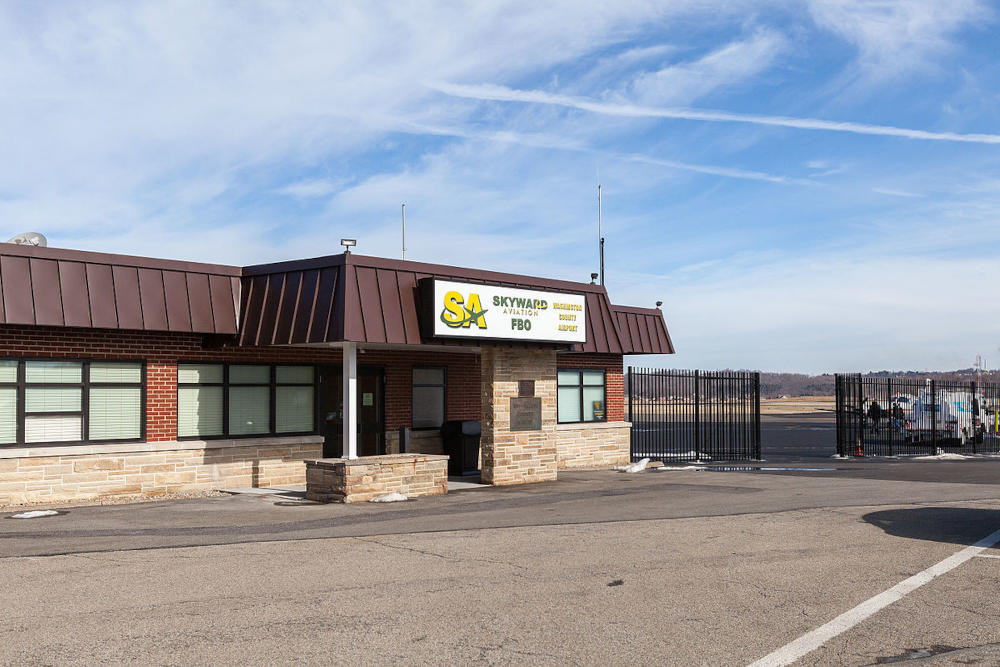 Every year, thousands of flights take off from the Washington County Airport in Washington, PA. Hundreds of people work there. The airport brings millions of dollars a year to the county. And it's growing.
The airport has a mile-long runway that is mostly east-west, lighting for night operations, an automated weather system and an instrument landing system to land in any weather. There's no air traffic control tower.
The airport can accommodate all types of aircraft any time of year. A dozen large hangars house the jets. Most of them are owned by corporations. The county owns three dozen T-hangars that people lease for their smaller planes.
Skyward Aviation is the Fixed-Base Operator (FBO) that runs the airport. An FBO is a commercial business that leases space at an airport to provide services – terminals, fueling, light maintenance and cleaning for transients, and passenger and pilot lounges. Transients are planes that aren't based at the airport.
Driven By Private Sector
The success of the airport was attributed to its unique public/private partnerships in a report by the Redevelopment Authority of the County of Washington (RACW).
Skyward operates a luxury private charter jet service that flies anywhere in the contiguous U.S., Canada, Mexico and the Caribbean. They go out of their way to provide flights for customers, arrange car rentals and cater food. They'll even customize the cabin. It's a more personal service than big airport provide. Skyward operates about 1,000 flights a year out of Washington on 11 jets.
Three out of ten Skyward flights are organ recovery flights for UMPC and the Center for Organ Recovery & Education. When donated organs become available, Skyward flies to Allegheny County, picks up a transplant team, flies them to recover the organ and back.
Aero National operates a round-the-clock air ambulance service at the airport. Every day they leave to transport people who require nurses and medical support. They fly two Cessna jets that have been configured for medical flights. Aero National is based at the Washington County Airport.
Cessna Citation, Beechcraft King Air and Piper Cheyenne fleets fly into the local airport just to get maintenance here by Friend AirCare, which operates a big facility at the airport. The Federal Aviation Administration certified it to maintain, inspect and make changes to aircraft. Friend AirCare brags that they house "one of the best-stocked parts departments in the industry."
Dallas Airmotive is a worldwide company that overhauls aircraft engines at Washington County Airport. Planes fly into their Regional Turbine Center for quick turnaround and customized services. They occupy two hangars at Washington County Airport and are exploring building a third one.
Economic Impact
The airport is an economic generator and aviation asset for the county, the Redevelopment Authority wrote in a report. Written ten years ago, similar or better results would be expected today regarding the airport's positive impact on the county, Bob Griffin, Economic Development Director at RACW indicated. The report showed the following economic impact:
275 jobs
$14 million payroll
Total annual output $54 million
Operational and Based Aircraft Growth – 20%,
Job Growth – 15%
In recent years, airfield pavements were rehabilitated and runway markings were repainted. A flight planning room, pilots lounge and other amenities were added to the terminal. Snow removal equipment was upgraded. The 400-acre facility grew as the county bought land with an eye to other renovations – like making the runway longer so planes could achieve altitude faster. The goal is for the airport to become a premier general aviation facility.
The New Washington County Airport will create an environment with exceptional facilities and outstanding service including runways, taxi-ways, air navigation equipment, infrastructure, aircraft storage, and aircraft maintenance

Washington County Airport at the Internet Archive
Groundwork has been laid for expansion in the future to provide additional space for corporate aircraft.
Civil Air Patrol
The Civil Air Patrol (CAP), the civilian auxiliary to the U.S. Air Force, has a presence at the Washington County Airport. Across America, CAP has undertaken search and rescue missions, disaster relief, humanitarian services and Air Force support.
Locally, twelve cadets from ages 12 to 21 are part of the Civil Air Patrol, Commander of the Washington County Squadron Captain Samantha Boettner said. They learn leadership skills and character development, take part in drilling ceremonies, study aerospace and may participate in emergency services. Cadets learn about flying planes through five hour-long orientation flights. Some cadets may go on to join the military, become pilots or reap the rewards of self-improvement.
The Civil Air Patrol meets at the Flyers Cub Thursdays at 7:00 PM. There are 12 senior members, 21 and older, as well.
Relief Airport – Flyers Club – FlightFest
The airport is a relief airport for Pittsburgh International Airport. Relief airports like Washington County Airport handle aircraft with lower capacity and slower speeds that could otherwise clog larger, international airports. In that model, the larger airport is freed up to handle more flights from larger craft, processing more passenger traffic more efficiently. Air traffic is improved over a wide area.
The airport is home to the Washington Flyers Club, a social organization for pilots and unlicensed aviation enthusiasts. The club gets people interested in aviation, promotes aviation safety and teaches the history of aviation in a social setting.
In 2021, Skyward Aviation and other companies located at the airport invited people to see the facility and ride an airplane at FlightFest 2021.
The Washington County Airport is owned by Washington County through the Washington County Redevelopment Authority and operated by Skyward Aviation. Located near South Franklin Park in South Franklin Township, about five miles southwest of downtown Washington, services include luxury charters, state-of-the-art aircraft maintenance, engine overhauls and air ambulance service. It is an economic generator for the county.
This article was published in