Three Rivers Quilters Annual Show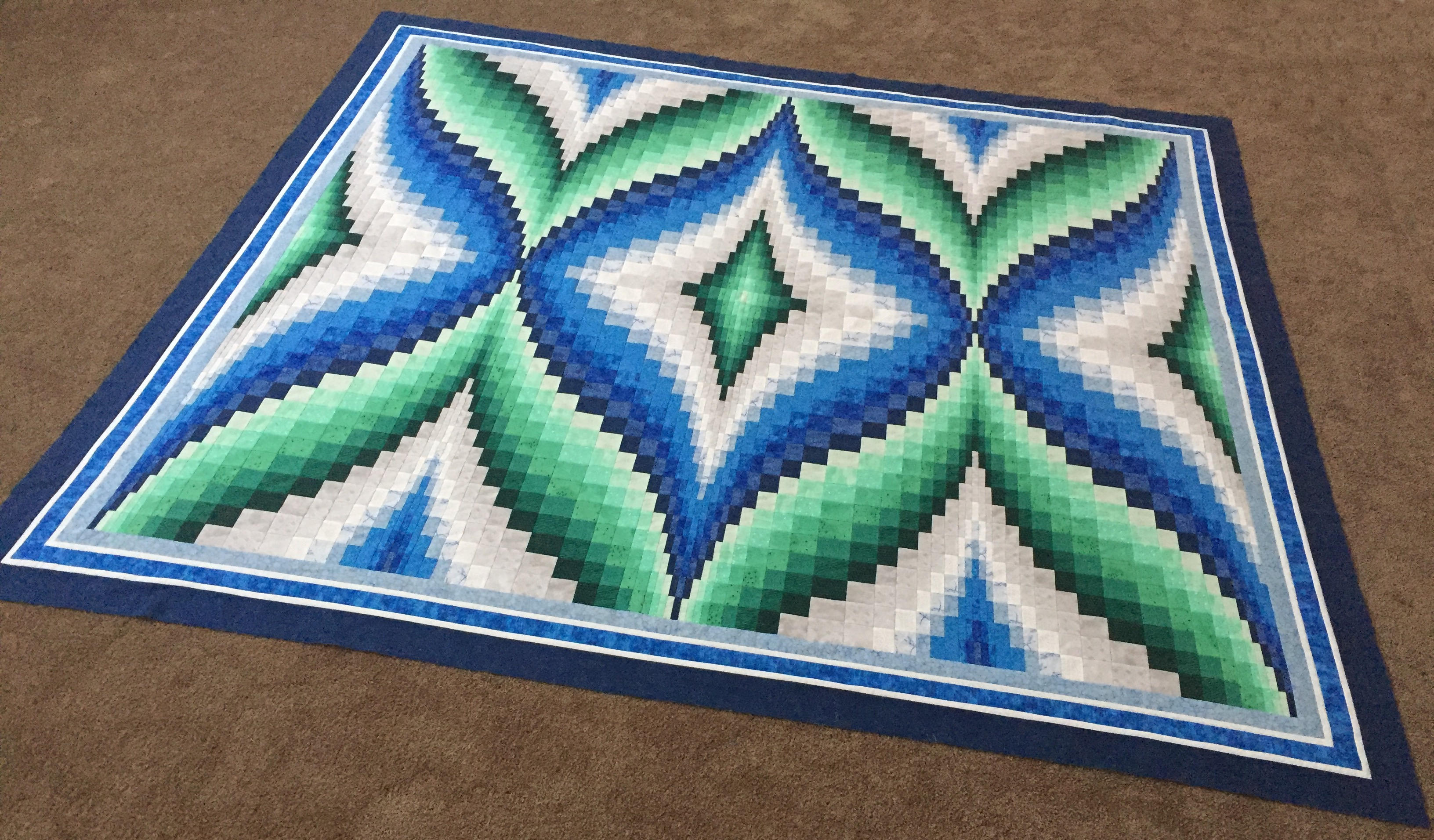 Close to 3,000 people are expected when the Three Rivers Quilters Annual Show returns to the Hollywood Casino at the Meadowlands from April 7 to 9 after missing two years during the pandemic. People can see quilts – including quilts designed in the 2022 theme, watch demos, visit vendors and enter a raffle.
Interest in quilting is growing, Pam Bice, who is in charge of publicity and advertising for the Three Rivers Quilters Annual Show, said. Nine to eleven million Americans quilt to relax, de-stress, have a creative outlet or give quilts to family and friends.
Anyone can enter a quilt into the show. Quilts are entered in 12 categories, which provides a variety of displays.
129 quilts by members of the Three Rivers Quilters Guild will be displayed and judged by Certified Quilt Judges. Quilters can win cash prizes or ribbons.
This year's theme is Bargello. That design, named after the Bargello Palace in Italy, was first used in needlepoint. People created ways of using the Bargello design in quilts. The design is "less complicated than it looks but it does take attention to detail," Bice said. An example of the Bargello style appears at the top of this article.
Eight quilts made in the guild challenge using the Bargello design will be displayed. Guild members all had to use the same three fabrics in their Bargello quilts (although other fabrics were allowed) and meet quilt size restrictions. The challenge is a guild-only affair. Members voted on the winner.
Guild members are already quilting next year's theme, Drunkard's Path, a quilt block that dates to ancient Egyptian times. Show themes are selected three years in advance, allowing quilters to take their time doing their quilts.
Twenty-four quilts will be seen from the National Association of Certified Quilt Judges. They were challenged by the national organization to design a quilt using the association colors, blue and yellow. The display is titled, "Our Colors, My Style".
Getting Started, basic techniques like how to do a binding or how to piece together triangles, and other demos and talks are scheduled for each day of the show. Computers have become an important part of this traditional craft. One demo will be Using EQ8, which is computer software for designing quilts. Additional demos and talks are listed on Three Rivers Quilters' Facebook page.
16 vendors will sell a variety of quilt-related supplies including starter supplies. Six of the vendors haven't been seen at the Three Rivers Quilters Annual Show before.
A Bargello quilt designed by Three Rivers Quilters member Julie Lesko will be raffled off. A picture of the quilt appears at the top of this article.
The Three Rivers Quilters 2022 Annual Quilt Show runs from Thursday April 7 through Saturday, April 9 at the Hollywood Casino at The Meadowlands. Admission is $10, with discounts for Friday early birds and groups.
| Day | Hours |
| --- | --- |
| Thursday | 10:00 AM until 5:00 PM |
| Friday | 10:00 AM until 7:00 PM |
| Saturday | 10:00 AM to 4:00 PM |
Parking is free. People can use wheelchairs for free. Scooters can be rented.
People can reach the quilting show at the Hollywood Casino at the Meadowlands on the County Line A bus.
Three Rivers Quilters Guild
The Three Rivers Quilters Annual Show is the only fundraiser for Three Rivers Quilters Guild, a nonprofit organization whose members are mostly from Allegheny and Washington Counties. Once a month they hold a quilting workshop at the Baldwin Community United Methodist Church from 10:00 AM to 3:00 PM, followed by a break for dinner, their monthly meeting at 7:00 PM and a quilt-related program. People typically arrive early to the monthly meeting to show off what they did at the workshop.
Attending their annual show is a way to get started quilting, Bice said. Newcomers can watch demos, practice at machines and make starter purchases from vendors.
We're starting to get younger members coming into our guild.

Pam Bice, Three Rivers Quilters Guild
Members make comfort quilts for charity. Each October they donate more than 100 quilts to charities that include the Ronald McDonald House and The Cancer Center at Jefferson Hospital. Members also sew about 30 neonatal quilts a month at the Linus Center, an organization that makes blankets for children who are seriously ill or traumatized.
After skipping the past two years, the Three Rivers Quilters Annual Show expects thousands of people at their early April show. Attendees can see quilts in 12 categories, Bargello-themed quilts and quilts made by people who judge quilts. People interested in learning to quilt can watch demos, practice on a machine and talk with vendors.
This article was published in and updated in