Planting Trees, Protecting Streams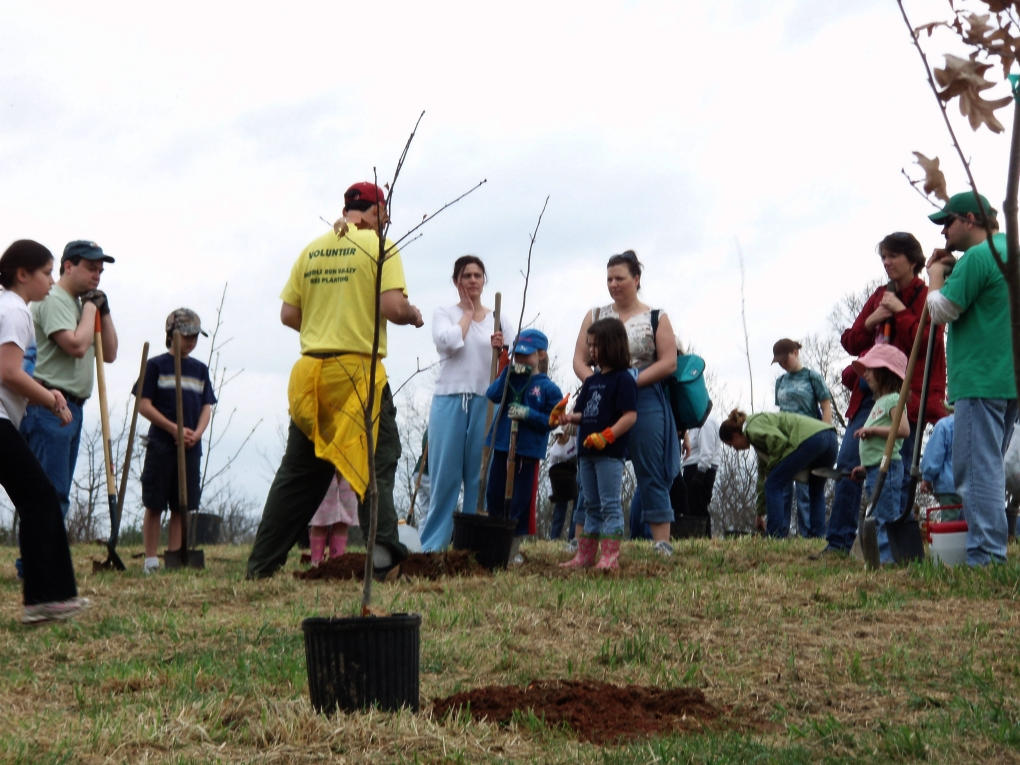 Trees are being planted for free along Washington County streams this spring as part of a concerted effort to plant 10 million trees across PA.
"The emphasis is on planting trees along streams to provide a forested buffer to take up any excess runoff and any pollutants trying to enter the stream," Washington County Watershed Alliance Treasurer Jennifer Dann, who is also a Watershed Specialist with the Washington County Conservation District, said.
A recent report from the state showed that 60% of the streams in Washington County are polluted. Trees reduce pollution. They also provide shade for people and the streams. Cooler stream temperatures are important to fish and other aquatic life.
In 2021, the Washington County Watershed Alliance coordinated the planting of about 110 trees as part of the Keystone 10 Million Trees Partnership. This year they're going to plant as many as they can, Dann said – almost 850 trees by the end of the spring planting season, which begins in April. That will bring the total number of trees planted near county streams to nearly 1,000.
The watershed alliance doesn't plan to stop there. Dann believes the alliance can coordinate the planting of up to 1,500 trees a year.
As long as we can keep partnering with the Keystone 10 Million Trees Partnership for free trees, we'll do our best to get them in the ground.

Jennifer Dann, Washington County Watershed Alliance
The Watershed Alliance works with other groups in western PA, takes orders for trees, coordinates with landowners and arranges for volunteers to assist homeowners when needed. Altogether, close to 100 people are involved.
The trees are being planted on private property the streams pass through. Landowners receive trees and planting instructions provided by the Keystone 10 Million Trees Partnership, and tree tubes and stakes from the Watershed Alliance. The stakes help the trees grow straight. The tubes, made of a thin PVC material, protect the seedlings from hungry deer and other animals until they're 5 feet tall and can fend for themselves.
The Keystone 10 Million Trees Project brings a lot of people together in the hopes of planting 10 million trees in PA – government agencies, conservation organizations, outdoors enthusiasts, businesses and every day people working to improve the state's natural environment.
Trees are one of the most cost-effective tools for improving local water quality.
There's a voluntary $3.00 check-off box on PA drivers license and vehicle registration online forms. By checking the box, people help more trees be planted and maintained across the state.
Trees will arrive in Washington County around April 22 – Earth Day – and be planted shortly after that by property owners in rural parts of the county who signed up for them last year. The Washington County Watershed Alliance can also plant trees in agricultural areas, and urban areas are allowed. Trees can also be used to help restore abandoned mines, according to the Keystone 10 Million Trees Project.
Trees scheduled to be planted this spring were ordered last year. Another round of tree planting is planned for this fall. Information about ordering those free trees will be published in the watershed alliance's newsletter, which people can sign up for on the alliance's website. The Watershed Alliance is especially looking for homeowners who can plant trees within 35 feet of a stream bank.
Planting the county's share of 10 million trees takes landowners' participation and coordination by the Watershed Alliance. That many trees will block a lot of pollution from entering the streams in the first place. The result will help keep the rural nature of Washington County.
This article was published in