Ride A Bike in Washington County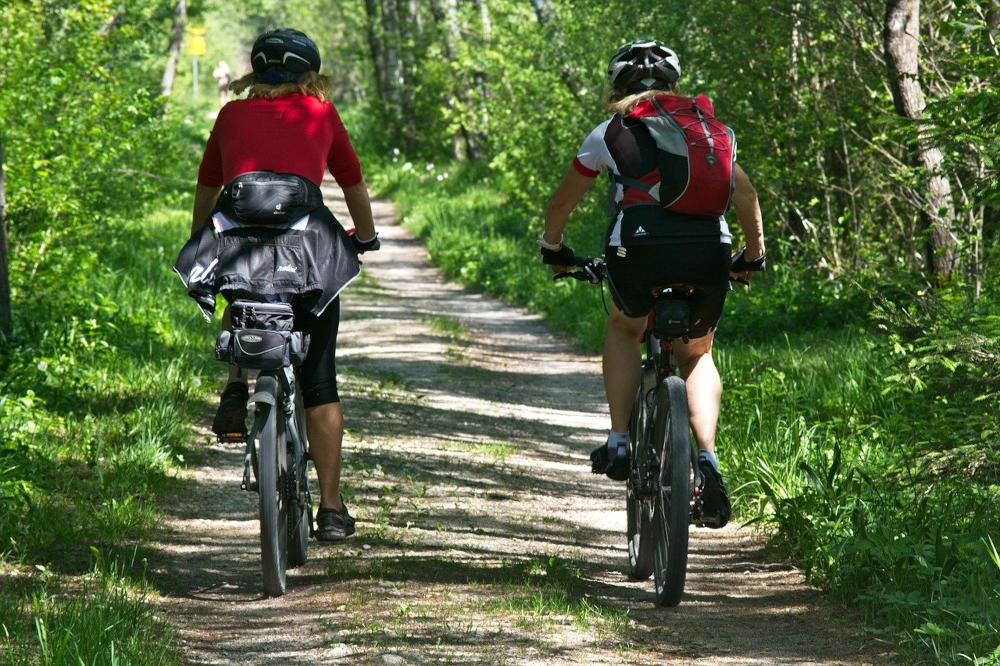 Riding a bike is a low-impact activity that's easy on the knees and can lead to better health. Biking on trails in Washington County can help people bounce back from the pandemic.
Clean that old bike, check the tires, test the brakes and take it for a test spin around Washington Park. People who learned to ride always remember – so go ahead. Ride on a paved loop that passes through a wooded area. Historic buildings can be seen. Hills add to the experience.
It's pretty easy to find and fun to venture off the path to bike on some hidden features. … There is not a lot of trail markings but there's signs saying no motor vehicles on trail.

Posted to Yelp by Blaise P. of Canonsburg, PA
Outside of Washington Park, plan to drive a half-hour or more for the opportunity to go biking on paths that will never bore. Bring a tool kit to fix a flat – no sense walking the bike back if that happens. Pack water and snacks.
Wear a helmet. A half-million Americans go the emergency room every year for bicycle injuries. Many of the injuries are to the head or face. Wearing a helmet substantially reduces the risks.
Mingo Creek County Park
Trails at Mingo Creek County Park get used for different purposes – riding a bike, walking, hiking, running. Horses are ridden. Dogs may be present. Rules of etiquette are to ride on the right and notify people being passed with a bell or horn so no one is startled.
The Paved Path is ideal for road biking without the cars. People who live close to the park use it for regular exercise. It's not a loop – it's a 6-mile path. People who aren't up for a 12-mile, round-trip ride will want to turn back before getting too tired.
Other paths at Mingo Creek County Park are good for mountain biking. Some are not marked for biking – for instance, the park map marks the Old Spring Trail and Hemlock Trail for pedestrians only.
In the past, people would ride one bicycle on the road and another one on trails. That's changed, Dave Poe, who owns The Tandem Connection, explained. Today's bikes can accommodate both roads and trails – hybrids are available.
A decent ride through the woods on a mountain bike. Lots of up up hill and downhill sections.

Posted to AllTrails by Tim Beers
Hundreds of people who have walked or biked the trails at Mingo Creek posted reviews to AllTrails, which also offers an on-the-go app that can help people stay on course.
Montour Trail
North of Washington lies Montour Trail, which converted unused railroads into people-friendly trails. Small towns, fields, deer and rivers can be seen as people bike along the 23 miles of Montour Trail in Washington County. The trail, which is paved with crushed limestone, is operated by volunteers who keep on top of the maintenance.
"My favorite trail is the Montour Trail," Poe said. His store, The Tandem Connection, is located in a vintage building right alongside the trail in Hendersonville, just off the Southpointe exit of I-79. "Because I do it so much, I know it inside and out. I can ride before work or after work."
If someone doesn't have a bicycle, Poe recommends renting one before buying. "Bikes have changed a lot over the last twenty years and one bike doesn't fit all," Poe said.
One change is the popularity of electric pedal assist bikes. People turn on the motor for a long-distance ride. The system's sensors detect when help is needed to pedal up a hill or travel a bit farther.
Panhandle Trail
The Panhandle Trail – another rails-to-trails project – has six access points in Washington County. The trail's long stretches with mild elevation are noticeable after a long ride.
People who bike the length of the Panhandle Trail – 16 miles towards West Virginia and 16 miles back, or about two hours for many people – will see animals, creeks, farmhouses and not so many people. The trail can be rough. Hybrid bike tires are recommended.
Hillman State Park
Hillman State Park is a largely undeveloped state park near Burgettstown that offers trails that are perfect for mountain biking.
Greene River Trail
Here's a bonus trail to bike. It's not in Washington County. Greene River Trail is 40 minutes southeast of Washington in Rice's Landing, Greene County. The smooth crushed gravel trail follows the Monongahela River through former coal country for a little more than five miles. People bike, walk and jog the trail – but no motorized vehicles.
Taking Care Of The Bike
People who ride frequently know to maintain their bike. They wipe it down, check the tires, and inspect the brakes and cables.
Like with automotive tires, riding with pressure that's too low wears them out more quickly – while high pressure provides a bumpy ride with less traction. Bicycle tires can lose pressure quickly sitting around – check the air pressure before riding. Remove the valve cap, attach an air pump and work it until the pressure meets the manufacturer's specs.
Generally most bikes need a yearly tune-up in a bike shop to check that nothing is loose, the brakes are adjusted right and they're getting the optimal output from the gears. Someone who rides three, four or five times a week will have their bike in the shop more often.
Sure all that riding will make the butt sore at first. Muscles may ache. It's easier on the joints than other activities. It's more fun than sitting at home like the pandemic required for more than a year.
This article was published in and updated in