Pennsylvania Trolley Museum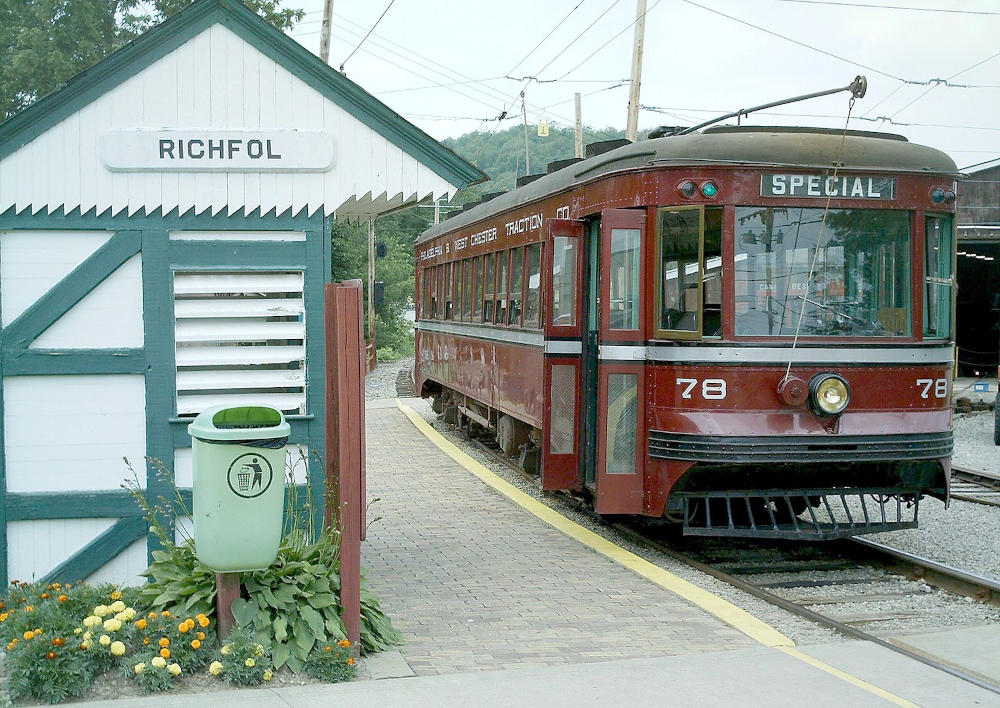 The Pennsylvania Trolley Museum offers a living history experience in Washington, PA. Visitors can touch the exhibits and go for a ride around a 2-mile trolley track.
The standard trolley ride at the museum is four miles on board antique trolleys. "The trolley cars visitors ride in have been beautifully restored down to the smallest details," Jim Cheney, a self-described "train nut" wrote in Uncovering PA.
A guided tour of a car barn is included. An extended tour is available on weekends. Car barns were enclosed buildings where trolleys were stored when not in use. The museum has more than 50 trolleys including a horse-pulled trolley from the late 1800s and trolleys made as late as the 1980s. While some have been restored to pristine condition, others are quite weathered. A few don't fit the gauge of track the museum uses. Most originally ran tracks in Pennsylvania. Guides talk about the history of trolleys. A video about the trolley era is viewed. There's shopping at the museum store.
The few times I've been here its always been interesting and I learn something new. Great place to take the kids!

Posted to Yelp by Matt S., Washington, PA
The museum displays streetcar #832 from New Orleans, where it ran on the Desire line memorialized by Tennessee Williams' play (and later movie), A Streetcar Named Desire. A photo of streetcar #832 appeared in Life Magazine when the play opened on Broadway.
Fred Rogers visited the museum, which appeared in an episode of Mister Rogers' Neighborhood.
Waymarks have been recorded at the trolley museum. People can add their own.
Special Rides
Special rides are available at Easter, during the Washington County Fair, at Halloween and Christmas and at other times.
People can ride a trolley to see the Easter Bunny on Palm Sunday and Easter weekends. Pictures can be taken with the Easter Bunny. There's a scavenger hunt, crafting and live rabbits.
The Dinosaur Trolley happens in May
Going to the fair? Each August during the nearby Washington County Fair, the Pennsylvania Trolley Museum provides trolley rides from parking direct to the fairgrounds. The cost is $3 per person. Children under 3 are free. Admittance to the fair or museum is extra. Trolleys depart every 15 minutes.
For Halloween, kids can put on a costume, ride the Pumpkin Patch Trolley, decorate pumpkins, play games & enjoy refreshments. Children's tickets include a small pumpkin. Tickets can be purchased in advance to guarentee a trolley ride.
At Christmas, kids of all ages can ride The Santa Trolley and meet Santa Claus over four weekends.
History
Companies were first allowed to transport people using trolleys in PA in the late 1800s. A trolley, also called a streetcar, is a rail vehicle that runs on tracks along streets. People got around cities by trolley until the mid-20th century. But the rail lines were expensive to build and operate.
Pittsburgh Railways ran a large fleet of trolleys mostly in Allegheny County. Its Interurban Division trolleys linked Pittsburgh with Washington County, making stops in Washington, Monongahela, Donora and Charleroi. They were equipped with special features for use on the interurban lines. The Washington line was cut back to Allegheny County borders in 1953.
A forerunner to the Pennsylvania Trolley Museum bought nearly a third of a mile of track that Pittsburgh Railways abandoned. Three trolleys the group had acquired earlier were run from Pittsburgh to the site in Chartiers Township. They restored their trolleys. They built a power station. They added a car barn.
In the early 1960s, the Arden Trolley Museum opened. Since then, museum has collected more trolleys and increased the track lineage. Trolley stations were added at the Washington County Fairgrounds and Arden Mines.
The museum was closed during the peak of the coronavirus pandemic. It reopened at 50% of capacity. Fewer people were allowed on the trolley ride. There were new hours. Thursdays were reserved for high-risk people. Masks were required. Signage was displayed to help enforce social distancing. New cleaning materials and procedures were in place.
The Pennsylvania Trolley Museum is mostly staffed by volunteers. It is supported by grants, visitor admissions and donations. Parking is free. Admission covers a scenic trolley rides, viewing the exhibits, a guided tour, theater, museum store and picnic area.
The museum is located in Chartiers Township. The street address is 1 Museum Road, Washington, PA 15301.
This article was published in and updated in