Freedom Transit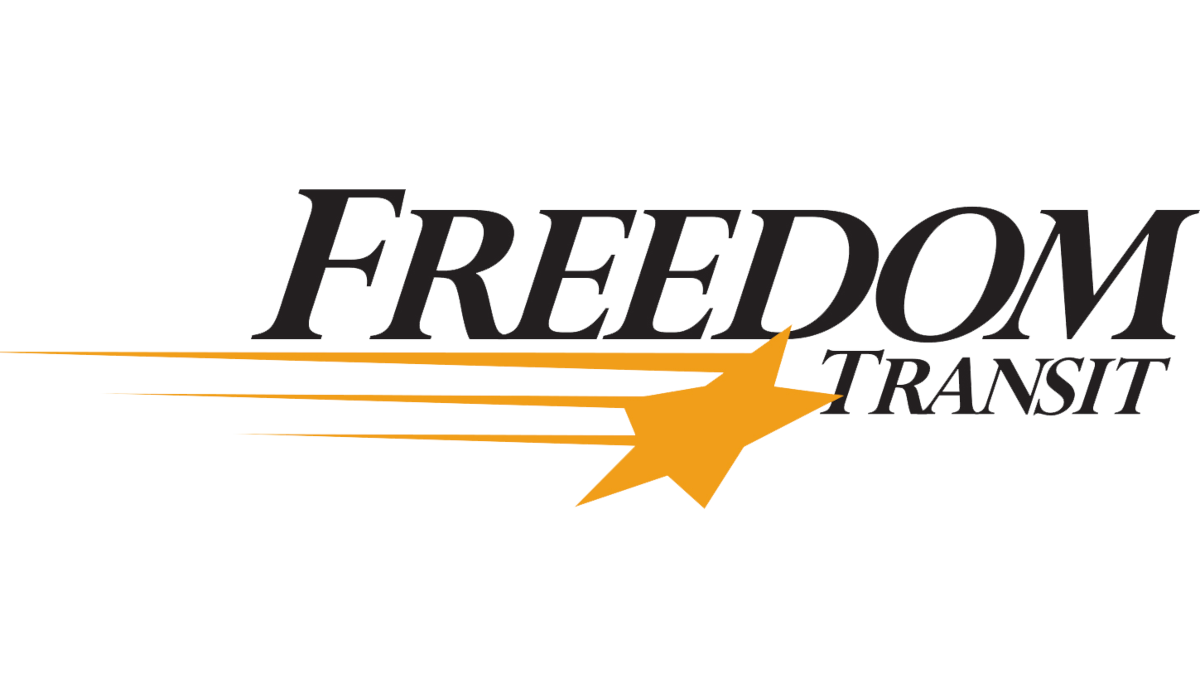 Ride the Freedom Transit bus to work, school, a medical appointment, shopping or any reason at all.
Washington, PA buses provide in-city transportation, and go to Crown Center, Tanger Outlets, Hollywood Casino At The Meadows and downtown Pittsburgh. The mass transit service operates Monday through Saturday from 6:00 AM until 8:00 PM. Buses don't run on major holidays.
Buses operate through the more populated parts of the county – central and northern Washington County.
County Line A travels between Washington and McDonald. County Line B runs between Washington and Monongahela, and Washington and Canonsburg. Together the County Line routes connect people with WHS Washington Hospital, senior living, supermarkets, Tanger Outlets and other shopping, schools, churches, Hollywood Casino At The Meadows, and the Washington County Fairgrounds.
The Local A runs in the city. It provides access to Washington Hospital, Washington High School, supermarkets, Citizens Library, Washington Park, the Washington Senior Center, TRPIL and many apartments, including Bellmead Apartments, which provides affordable senior housing.
The Local B provides access to Trinity Point, Washington Crown Center, Washington Mall, Old Mill and Strabane Square – with stores including Walmart, Target, Home Depot, Washington Shop N' Save and Giant Eagle. Its stops include Century Plaza Apartments.
Commuter service from Washington to Pittsburgh allows people to park locally and ride the bus to work in Pittsburgh. From the Jessop Place Park & Ride and the Beau Street Park & Ride, the route travels through the Meadowlands, Houston, Canonsburg and Southpointe on its way to Pittsburgh, where it stops at Gateway Center, Wood Street and Smithfield Street. It terminates at the Greyhound station, which is near the East Busway and the Amtrak station. Freedom Transit's Pittsburgh Metro Commuter Bus Service operates numerous times through the day on weekdays, with limited Saturday service. During the coronavirus pandemic of 2020, Freedom Transit suspended a portion of the Pittsburgh Metro routes.
Freedom Transit offers a shared-ride service for people with special needs, seniors, veterans and other people who may participate in a subsidized program. In a ride sharing program, people who may be strangers ride together. People have to apply and be approved to use the service. Door to door rides can take people to work, shopping, medical appointments, visiting, church or recreation. Eligible residents can receive free or reduced fares.
Freedom Transit was formed in the mid 2010s when Washington City Transit merged into the Washington County Transportation Authority. Freedom Transit is headquartered at the transit hub, which is located at 50 East Chestnut Street, Washington, PA.
This article was published in