National Pike Steam, Gas and Horse Association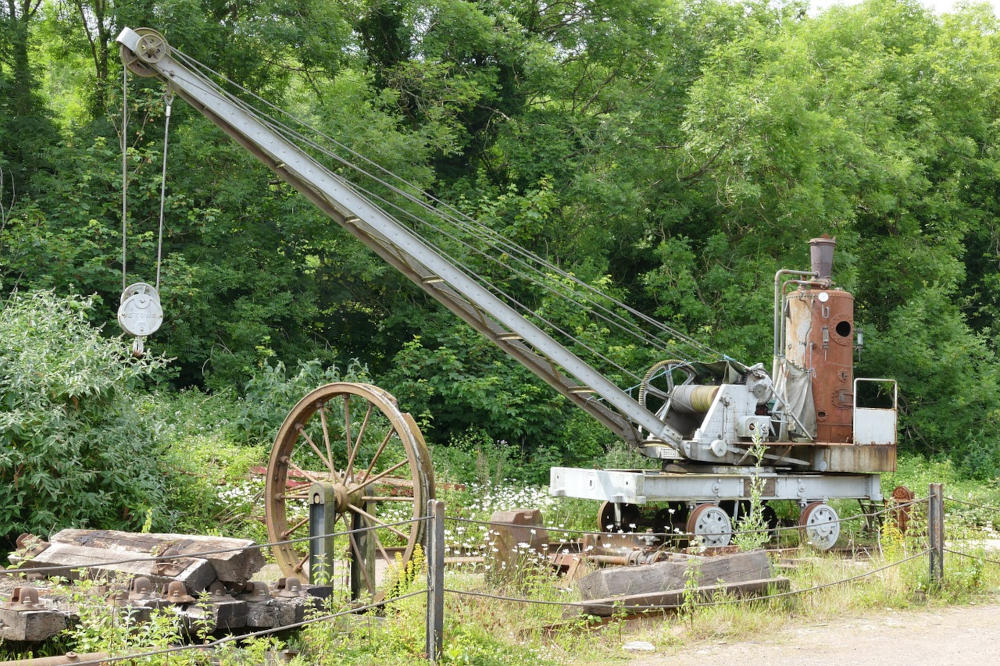 The National Pike Steam, Gas and Horse Association Spring Show is all about old construction and farm equipment. Unless the food, flea market and craft show bring crowds of people to the twice-yearly event that's about a half-hour drive from Washington, PA.
"We feature old construction equipment. There will be 50 pieces of equipment of here," Association President Bob Kelly said. As the name of the association suggests, the powerful old equipment could be powered by steam, gas or horses. On a personal note Kelly added, "I like the old construction equipment. We own twenty some shovels, I don't know how many crawlers and dozers. I ran equipment most of my life."
The association tries to have different equipment displayed at each show. The Spring Show is held in May. The Summer Show happens in August. People travel to the U.S. from all over the world just to see the old construction equipment at the National Pike Steam, Gas and Horse Association events.
The shows display vintage farm tractors. There's no way to predict how many tractors will be on hand this spring, although Kelly suggested that with people looking to get out and do things, there could be a lot.
That springtime, late-pandemic, get-out-of-the-house sense of things could also boost attendance at the show. 100 acres of show space spreads out the crowds. Wearing masks isn't required, although people are welcome to wear them. Hand wash stations and hand sanitizer will be available at the food booths.
Some people visit the shows for the food. They operate five eateries. One is the Chicken Coop – the chicken is cooked outside over a charcoal pit and served as part of a regular meal. The Whistle Stop booth serves all sorts of fair food along with breakfast at 7:00 AM for the vendors and others who are part of the event. People who look forward to fair food enjoy what the show offers when lunch is served starting at 12:00 noon. Funnel cakes are available in the afternoon.
The showgrounds are beautiful. Trees provide plenty of shade. Benches are scattered through the park. It's a friendly place where people bring families.
What kind of family venue would an industrial event be if it didn't offer a rock crusher? Kids can watch rocks be crushed and even drop them into the machine.
The event hosts a big flea market with a lot of old items for sale including tools and – like a traditional flea market – a little bit of everything. "We don't allow too much new stuff" at the flea market, Kelly said. Vendors can set up in their 20-foot by 30-foot space starting at noon the day before.
Crafts have grown in popularity. The show built six new buildings for craft vendors to supplement the old buildings and tents used by vendors in past years. A lot of crafts are available that fit the theme of the shows.
People can watch items be manufactured by hand at a working blacksmith shop and even buy something there.
The grounds hold an old fashioned machine shop with belt-driven machines – a metal lathe, a large wood lathe, a shaper, numerous drill presses and grinders. Much of the equipment is like the machines that manufactured items used in mining.
The American Industrial Mining Co. Museum has grown in popularity. People who've never seen a coal mining operation can get a sense of how a mine operates. Kelly related that a bunch of young guys who work underground bring coal to the show and drop it into a big pile. A Joy loader scoops up the coal and runs it over to a railroad that is set up with coal cars. It is educational and fun to watch.
Another demonstration shows corn being ground into animal feed.
An operational shingle mill turns wood into old-fashioned shingles.
Musical entertainment is offered both days. There will be live bands on the stage.
People can camp out or park their RVs on the outer edge of the parking lot. Controlled campfires are allowed. People should bring their own firewood. There are no electrical hookups.
Dogs are welcome. The usual pet vaccinations have to be up to date. They have to be leashed.
The Spring Show is scheduled on May 15 and 16, 2021, after missing last year due to the pandemic. It's happening even though many events associated with National Pike Days have been canceled. The gates officially open at 9:00 AM, but they don't turn away people who arrive early. Food is served until 5:00 PM. The event ends at sunset.
The August Show
The August show is scheduled for Friday through Sunday, August 13 to 15, 2021.
It's a three-day event!
The summer show happens around harvest time, allowing threshing and baling demos to be added the displays.
Addmission to the summer event is $7.00. Seniors are admitted for $5 on Friday. Children under 12 are admitted for free.
History
The National Pike Steam, Gas and Horse Association started forty years ago with five acres of land that were bulldozed to make the grounds. A saw mill, shingle mill, tractors and several other pieces of equipment provided displays and demos.
The National Pike Steam, Gas and Horse Association showgrounds are located in Centerville, Washington County. It is about a half hour southeast of Washington. They're along U.S. Route 40, which is the National Road. The street address for the association and their Spring Show is 222 Spring Road, Brownsville, PA 15417.
This article was published in