National Cemetery of the Alleghenies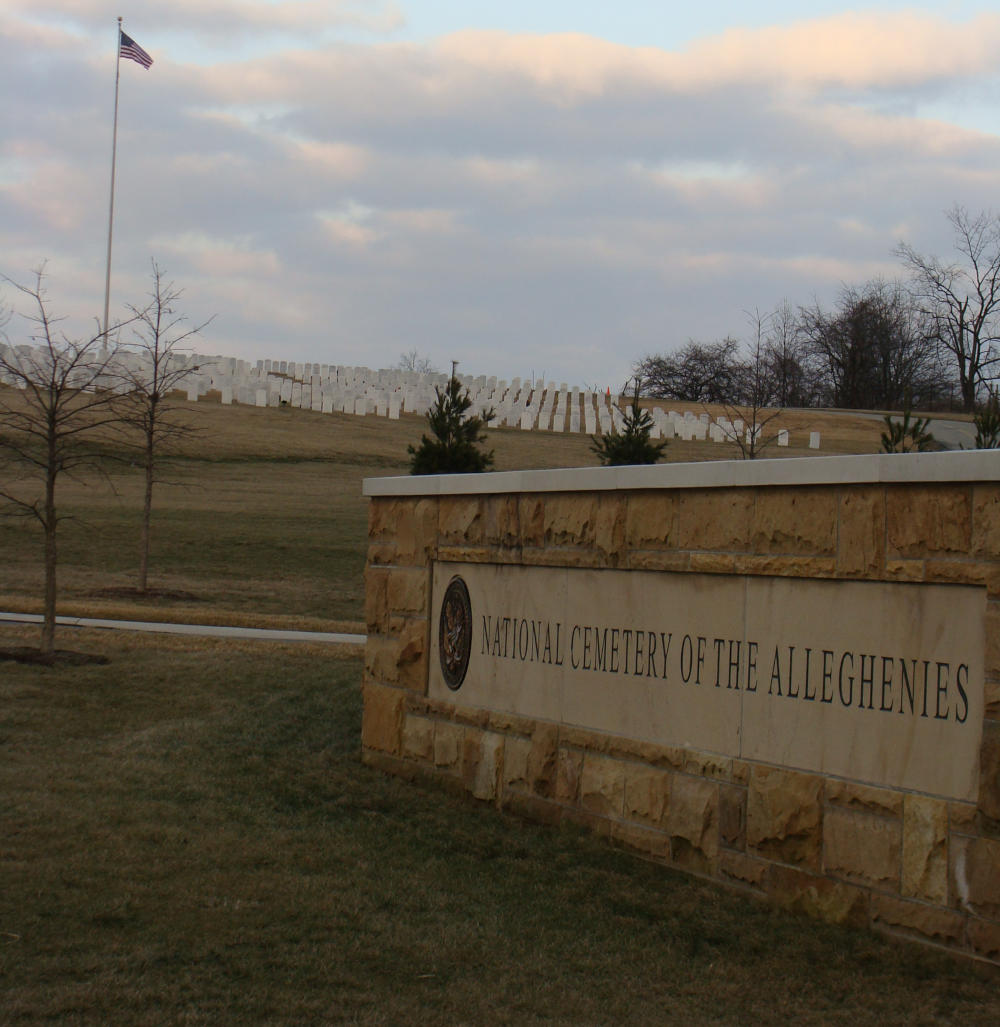 National Cemetery of the Alleghenies, located in Washington County, is a federal cemetery for military personnel & their families that offers memorials & reprieve for deceased veterans & their families.
Veterans who met a minimum active duty requirement & were not dishonorably discharged can be buried in the National Cemetery of the Alleghenies. A spouse, their young children or adult children with disabilities may also quality, even if they die first. Reservists who die on active duty, or while training, may be buried in a national cemetery.
Burials at National Cemetery of the Alleghenies may be traditional interments in a casket, involve crypts or place cremated remains in what is called a columbarium. Department of Defense Military Funeral Honors are provided. Veterans service organizations can help arrange a military honor group.
The Public Information Building offers a kiosk to help locate gravesites.
The cemetery was designed with a pastoral feel that connects back to the farmland that existed before it was built. Some of the buildings may remind visitors of farm structures. Shade is provided to the roads by groves of trees that also help frame sections of gravesites.
Flowers are the only items permitted to be placed at graves. Fresh cut flowers can be placed anytime. Flower containers are provided by the cemetery. Flowers are removed when they wither or interfere with maintenance. Artificial flowers can be placed from October to April. Nothing can be planted at gravesites. Floral monuments cannot be taller that the headstone.
These brave Men & Women paved the way for us to live the lives we do. Make some time, visit for the day & honor these true heroes for what they have given us.

Posted to Tripadvisor by C Woodhall
Volunteers help in the Public Information Center & Administration Building.
Firearms, explosive or deadly weapons aren't allowed at the cemetery. Exceptions are made for military funeral honors.
Every year at 11:00 AM on the Sunday before Memorial Day, an official ceremony is held at the National Cemetery of the Alleghenies. Memorial Day is a federal holiday to honor men & women in the military who died in the course of their duties. It is observed on the last Monday of May.
Memorial services are held at the cemetery on Veterans Day, held at 11:00 AM on November 11 to honor military veterans.
In December, Wreaths Across America places wreaths on the graves of veterans at National Cemetery of the Alleghenies & across America. The wreaths, which honor all veterans, can be sponsored – the more donations are made, the more wreaths are made available.
Early in the coronavirus pandemic of 2020/2021, services & military funeral honors at National Cemetery of the Alleghenies were suspended for several months. When services resumed, the number of people attending was limited, social distancing among people who weren't from the same family was implemented & face masks were required. Sick people were asked to stay home.
National Cemetery of the Alleghenies is operated by the U.S. Department of Veterans Affairs. Burials at the cemetery started in August 2005. The facility was dedicated in October of the same year. It covers nearly 300 acres.
The National Cemetery of the Alleghenies is located just off Interstate 79 in Cecil Township. It is about 20 minutes north of Washington, PA & 20 miles southwest of Pittsburgh. It can be visited any day from sunrise to sunset. The postal address is 1158 Morgan Road, Bridgeville, PA 15017.
This article was published in