Walk, Hike Or Bike The Montour Trail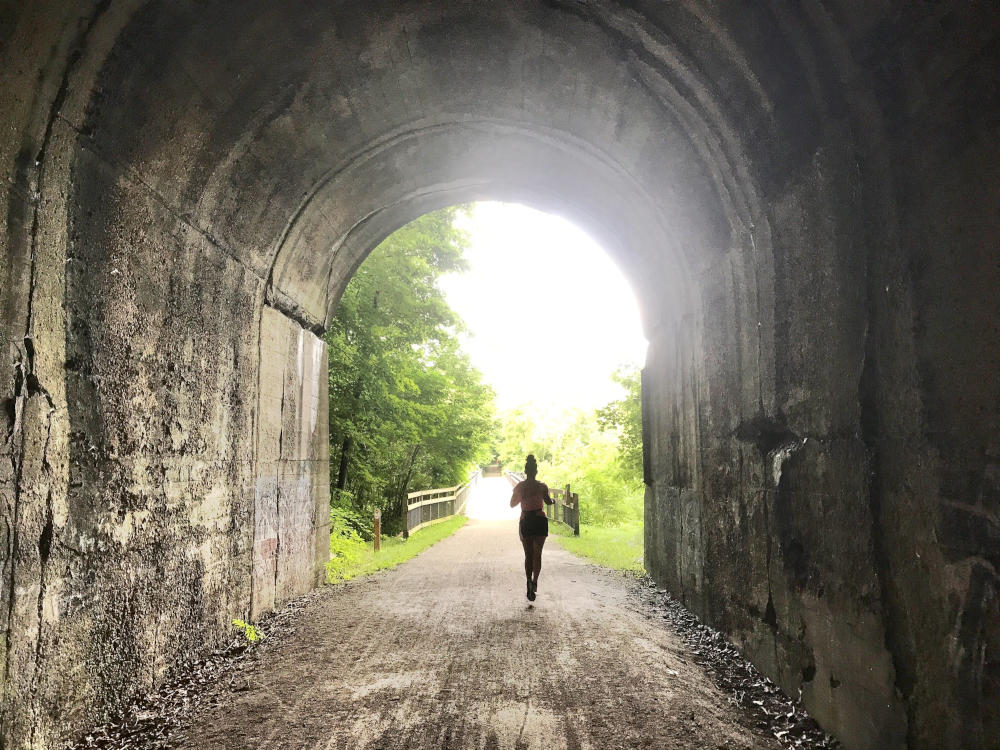 The Montour Trail – one of the longest suburban trail systems in America – travels 23 miles through northeastern Washington County. At its closest access point, it's only a fifteen minute drive from Washington, PA.
The trail can be used for walking, hiking, riding a bike, including mountain biking, birding and in the winter for cross country skiing.
People using the trail will see small towns and fields, rivers and vegetation, bridges and trestles, viaducts and tunnels, birds and deer. Blue cohosh, butterfly weed, chicory, snow trillium, trumpet creeper and wild bergamot are among the wildflowers that can be seen along the trail. In October, leaves changing colors can be seen.
The Montour Trail begins in Coraopolis in Allegheny County and travels south towards Washington County. The first access point – or place to get onto a trail – in the county is on State Route 980 across from Quicksilver Golf Course. People can use 16 parking spaces, a picnic shelter and a portable toilet at the Quicksilver Road/Route 980 access point.
The trail surface is finished with crushed limestone. As an old railroad bed (with the train tracks removed), it's pretty flat, making it an easy walk or ride. People who live near a trail access point use it for everyday walking, running, hiking or riding bikes – just not for anything with a motor. (E-bikes, which are growing in popularity, are allowed on the trail if their power rating is less than 750 watts, they weight under 100 pounds and have a top speed of 15 miles per hour.)
This is an excellent trail for biking or walking/running. Beautiful scenery too.

Posted to Explore Pennsylvania Trails by padams442000
The first major access point in Washington County is at McDonald Trail Station underneath the 900-foot McDonald trestle. There's 18 parking spaces, a portable toilet and a welcome center. The trail station is open from 10:00 AM to 3:00 PM on weekends from April through October.
The trail station/welcome center is adjacent to the Panhandle Trail. Follow the connector for less than a mile to reach the Montour Trail.
The McDonald Trail Station isn't the only place to access Montour Trail. Directions to quite a number of Montour Trail access points in Washington County are listed at MontourTrail.org's Trailheads & Access Areas. It's an indispensable guide to access points for people using the trail for the first time.
This trail is spectacular to say the least! … everyone was nice and said hi … The trail was clean

Posted to Yelp by Blaise P., Canonsburg
At Venice near the Galati Road access point is a trailhead – the start of the Westland Branch, a 4 mile trail through farmlands. It has excellent views. It runs parallel to a railroad line that's still in use. It ends at Hornhead Road across from the Westland Sportsman's Club. There's a lot of parking spaces and a portable toilet.
For the four closest access points to Washington, take Interstate 79 north, follow the Southpointe/Hendersonville exit, take Southpointe Boulevard towards Hendersonville and turn left onto Morganza Road.
Turn left off Morganza onto Cecil-Henderson road and turn left onto McConnell Road for the McConnell Road access point, which has a portable toilet.
Turn left off Morganza onto Cecil-Henderson Road for the Henderson Road access point. There are places to camp, a drinking fountain, picnic shelter and portable toilet.
Turn left off Morganza onto Oriole Drive and bear right onto Henderson Drive for the Hendersonville Park access point. It isn't as heavily used. There's a picnic shelter and a portable toilet.
Turn right off Morganza onto Georgetown Road for the Hendersonville access point, a heavily used facility with 53 parking spaces and a portable toilet.
People can walk or pedal through former railroad tunnels built to service area coal mines. The tunnels have been improved for walking and biking:
The National Tunnel, 623 feet long, has reflectors embedded in the asphalt pavement, while signs warn of possible ice.
The Greer Tunnel, , is 235 feet long. Greer Tunnel is dark. Bring a flashlight. Riding a bike? Turn on a light or walk the bike through the tunnel.
The last two Montour Trail access points in Washington County are at Peterswood Park in Peters Township. Both access points have a lot of parking, a water fountain, picnic shelter and bathrooms. To reach them, take U.S. Route 19 north from Washington. North of Donaldson's Crossroads, turn right onto Valley Brook Road. Montour Trail parallels Valley Brook to the right. Turn right onto Bebout Road and left onto Meredith Drive.
Peterswood Park Pavilion 4
Peterswood Park Softball Complex
Continuing past the park, the Montour Trail intersects the Bethel Branch trailhead, which starts a different trail.
The Montour Trail continues east past the Bethel Branch trailhead, leaves Peters Township, and its 23-mile passage through Washington County is over.
Geocaches, where people hide things and list the GPS coordinates on geocaching specialty websites so they can be found, have been placed along Montour Trail. Some of the caches are old. A few are no longer active. Some of the hiding places are more unusual – for instance, in old railroad tunnels – and make for a good family outing.
Trails get used for different purposes – walking, hiking, running, bike riding. Dogs may be present. Like any road, people are expected to keep to the right except to pass, and warn before passing. Don't go off the trail – the rights of way can be narrow, making it easy to trespass on someone's private property. The trail is open dawn to dusk.
Athletic events usually held on the trail in Washington County include:
The National Tunnel 10K/5K formerly started and finished at Cecil Park but that now happens at the Tandem Connection in April.
A Twilight Walk along the Montour Trail in Peters Township in the summer is a fundraiser to cover expenses to maintain almost four miles of the trail.
The Tour the Montour bike ride is held in September.
The Cecil Township Volunteer Fire Department 5K is scheduled for Saturday, September 18, 2021 to honor fallen heroes who have served.
Some events have been canceled two years running due to the COVID-19 pandemic.
All it takes is a couple hours to enjoy the Montour Trail for the first time – the trail is that close to home. Then it's a lifetime of enjoyment to walk it, hike it, run it, bike it or ski it while exploring the Montour Trail and the other trails that it connects to.
This article was published in and updated in