Mingo Creek County Park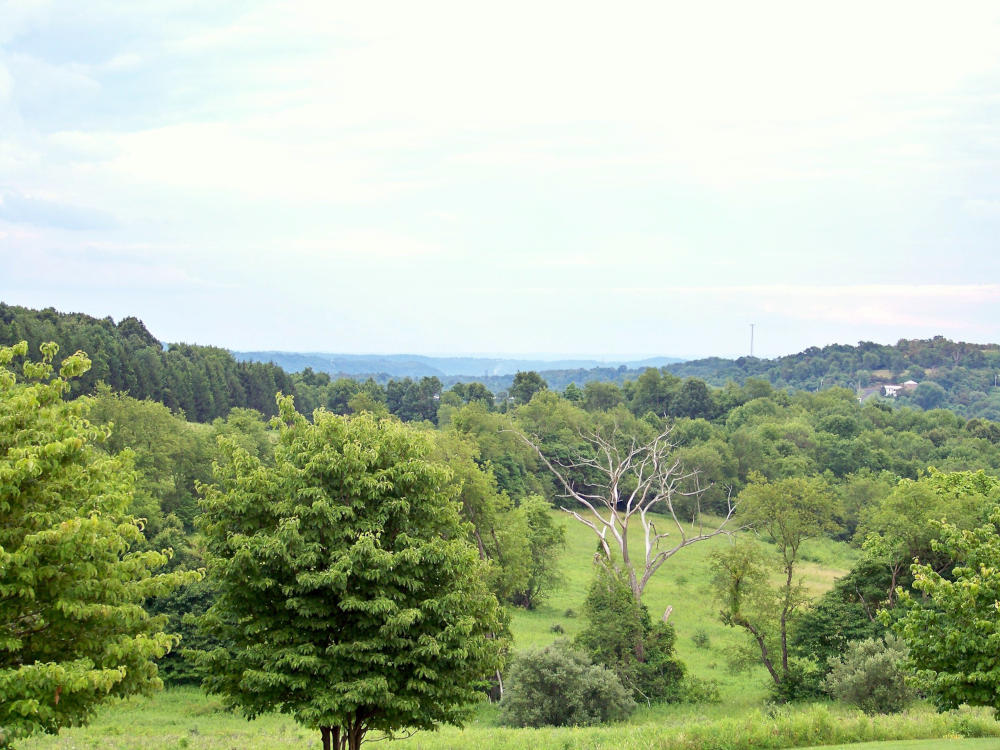 Mingo Creek County Park is a large regional park with picnic shelters, playgrounds, a ball field, many trails, an off-leash area for dogs, horseback riding, historic houses, a creek, a waterfall and covered bridges.
The park is less than a half hour drive from Washington. There's plenty of parking.
Cell service can be unreliable in the park – but isn't that the idea of going?
Mingo Creek County Park has seven trails for walking, running, a nature hike or bike riding. The trails at Mingo Creek overlap. They all pass through wooded areas or have a good view of the woods. The elevation on some trails is enough to provide a good workout. Wildlife is seen. Dogs are allowed on all the paths and have to be kept on a leash. Horses can be ridden on five trails.
The Paved Path is an easy three-hour walk. A lot of people who live near the park use the Paved Path for regular exercise. It's not a loop – it's a 6-mile path. People will want to watch how they're doing and turn back before getting too tired. This is the path to walk with strollers.
The Partial Orange Trail Loop is a mile and one-third long – most people can do that in under a half-hour. Wildlife can be seen, keeping the walk interesting.
The complete Orange Trail provides moderate exercise and offers activities along the way. It's 5½ miles long. People stop to see the wildflowers.
See a waterfall and Mingo Creek, and enjoy activity stations by walking the Orange and Blue Trails Loop. The nearly 7-mile loop can take up to 3½ hours to complete. A fair number of people walk the loop.
The Orange, Blue, and Paved Trail Loop is a 3

1/3

mile path that can be walked in a little over an hour and includes the waterfall and activity stations.
The Blue and Orange Trail Loop provides moderate exercise for about 3½ miles. The waterfall can be seen. There are activity stations.
The Perimeter Trail isn't for a casual walk. It follows the length of the park. It's 12 miles long and, with breaks, can take six hours to walk – less for experienced, fast walkers. It is marked as moderate but isn't a good trail for parents with young kids.
AllTrails has breakouts of each trail and reviews that can help people prepare for walking, hiking, running or riding the trails.
The trails are blazed; just pay attention and check your location every so often. Very nice right now – cool air, nice breeze, clear skies, leaves are just starting to come out.

Posted to AllTrails by Chris S.
The playground is accessible to people in wheelchairs. Playground equipment was replaced. There's a new rubber surface. A replica of a pirate ship and a crocodile are surrounded by blue rubber to resemble a sea. Cozy Cocoon is for people with autism spectrum disorder to escape the hubbub of a busy playground.
Have creek in southwestern Pennsylvania, will have covered bridge. In September, the Washington County Covered Bridge festival showcases the Ebenezer Covered Bridge and the Henry Covered Bridge. The festival usually offers crafts and food.
A nine-hole disc golf course is a walking loop designed with families with kids in mind. In disc golf, a Frisbee or other flying disc is tossed from a tee towards a disc golf basket. Three tosses should get the disc into the basket. Score is usually kept. The park has discs or people can bring their own.
Henry House, which was built in early 1800s, stands at its original location in Mingo Creek Park. W. A. Henry lived there until his death in 1960. The house sat vacant. It was damaged by vandalism. It was rehabilitated during the park renovations in the late 2010s.
The Isaac Sumney Log House was built two centuries ago on Sugar Run Road in Nottingham Township and donated to Washington County History & Landmarks Foundation in 2018. The foundation donated it to the county. The house was taken apart log by log and reassembled in the park's scout camping area. It can be rented by small groups when it's not used by scouting groups.
The Mingo Creek Park Observatory hosts star parties where people can look at the moon, stars and other objects in the sky through the observatory's permanent telescopes, portable telescopes set up by members or visitors' own telescopes.
People fly model aircraft at the park. The Washington County Model Aviation Association operates an airfield with long runways in a secluded area.
Birders have identified nearly 150 species of birds at the park.
Photos of the park can be found on AllTrails, TripAdvisor and Yelp.
Many directed activities are offered at the park throughout the year.
In the spring, Mingo Creek County Park is syrupy sweet – when people learned about maple sugaring. Department of Parks & Recreation staff toured through the park's Sugarbush. They showed modern sap collecting methods and techniques to turn maple tree sap into 100% pure maple syrup. Historical demonstrations were part of the program, which concluded with a pancake breakfast.
At Halloween, people can book a Fall Group Hayride that includes a fire circle & picnic shelter for a couple hours before or after.
Trick or Treat Geocaching happens at the park during October
The park hosts a candy cane hunt by flashlight with cookies and hot cocoa, and a Christmas pajama party for preschoolers during the holidays
In the late 2010s, extensive renovations were made to the county park – replacing an old picnic shelter, updating a playground, and other improvements and renovations. The price tag was $1.4 million. It was underwritten by the county's natural gas lease at Mingo Creek County Park.
During the coronavirus in 2020, Henry House, Isaac Sumney Log House, the Mingo Creek Observatory and restrooms in Mingo Creek County Park were temporarily closed. Organized public activities were canceled.
Mingo Creek County Park is operated by Washington County Parks & Recreation.
Looking for an address for your GPS? Try this: 3111 Route 136, Finleyville, PA 15332-3802.
This article was published in and updated in