Step Back In Time Three Times At Meadowcroft Rockshelter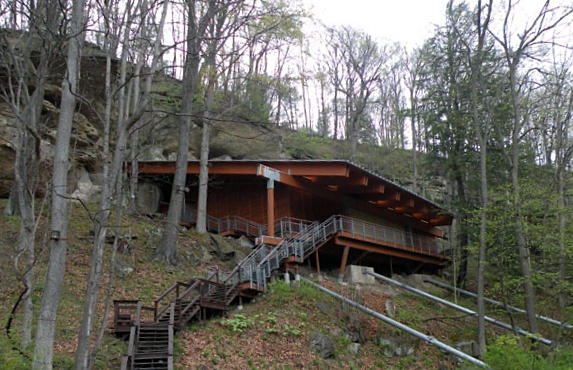 See blacksmiths work with fire, throw an ancient spear and look at the oldest known inhabited place in North America by stepping back in time at the Meadowcroft Rockshelter located on a bluff overlooking Cross Creek in northern Washington County.
Meadowcroft Rockshelter is a local archaeological site that gained a reputation among archaeologists as it rewrote what was known of early inhabitants of North America. It shows the rich history of life in the Americas before Europeans arrived to settle their land.
Meadowcroft Rockshelter and Historic Village offers three ways for people to experience the history of the area.
Meadowcroft Village
The first step back in time takes people back to the recreation of an historic village from the mid 1800s where they can see blacksmiths working with fire at a forge and watch teachers in a one-room schoolhouse that's almost two centuries old. People experience what rural life was like in the Upper Ohio Valley back then – with no cell phones, no social media, no video games.
During the summer, people dressed in historical costumes explain what life was like.
Several other structures from the 18th and 19th centuries can be seen in Meadowcroft Village – an old church, the Miller Log house, a barn and the Pine Bank Covered Bridge, which was dismantled and reconstructed at the Meadowcroft Rockshelter.
Native American Village
The second step back in time is to a Native American village about fifty years after Columbus found his way to what was called the New World. The French had barely started to colonize North America. The British hadn't yet established any colonies here.
The reconstructed village at Meadowcroft is set up like Monongahela people lived in the 16th century – about the time their culture disappeared from western PA, eastern Ohio, West Virginia and Maryland.
People can go inside a wigwam, which is a domed house made of curved wooden poles covered in bark. They can learn about Native American agriculture in the traditional Three Sisters Garden. Visitors can throw a spear called an atlatl. Prehistoric hunters used atlatls to hunt fish, birds and animals.
Little is known about the Monongahela people historically. The re-creation is set up from what archaeological excavations have learned. The Native American village at Meadowcroft is one of few places where people can learn about their civilization.
Prehistoric Shelter
The third step back in time is the biggest one – thousands of years back to the rock shelter that gives the museum its name. Scientific analysis shows it was used perhaps 16,000 to 19,000 years ago, although the exact dates are controversial.
Back then, people used the massive overhanging rock for shelter. The rock is a natural formation. That's all it is. And that's what makes it fascinating – people found their way to a difficult-to-reach overhang to get out of the elements.
The Rockshelter was most interesting to us, and our tour guide gave an excellent overview of the archaeology and discovery process of the shelter, still ongoing today.

Posted to Tripadvisor by rebvio, Mount Morris, PA
People lived in the rock shelter earlier and longer than any other place in North America. The shelter was larger back then. It could accommodate a lot of people until a portion of the roof collapsed. The falling rocks preserved artifacts that have been excavated by archaeologists.
Today, it's not quite so difficult to reach. A staircase – 60 steps – makes it easier. A building protects the rock shelter from natural wear and tear. Tools and campfires like Native Americans made can be seen along with deer bones, giving insights into the lives of hunter-gatherers.
The Dig
The Meadowcroft Rockshelter site is still under excavation. Archaeological digs were done yearly during the 1970s and every few years after that. Tools, baskets, bits of pottery, a 12,000-year-old arrowhead and 20,000 other artifacts have been found.
The importance of Meadowcroft Rockshelter has been recognized. It was designated as a historic public landmark by the Washington County History & Landmarks Foundation and is a Pennsylvania Commonwealth Treasure. The Pennsylvania Historical and Museum Commission installed a historical marker. It's a National Historic Landmark and an official project of Save America's Treasures.
Conclusion
Years ago, the land surrounding the rock shelter was stripped of its coal, leaving an ugly mess. Over many years, the area was restored by its previous owners, Albert and Delvin Miller, who also developed the site for visitors.
Meadowcroft Rockshelter is open from 10:00 AM to 4:00 PM from Wednesday through Sunday. It's a 35-minute drive from Washington. The drive takes people past Cross Creek County Park. Cross Creek will be seen, as the rock shelter is on a bluff overlooking the water.
The creek was part of the draw thousands of years ago as people "setting up camp could easily have access to freshwater," Archaeology Magazine wrote, making it an attractive place to stop as they traveled from the Allegheny Mountains west into what is now Ohio.
Today, the Meadowcroft Rockshelter is an attractive place where people can step back in time to learn about the people who lived here thousands of years ago, the Monongahela people in the 1500s and life on the rural frontier in the 1800s.
This article was published in