McDonald Trail Station & History Center Reopens For The Season In April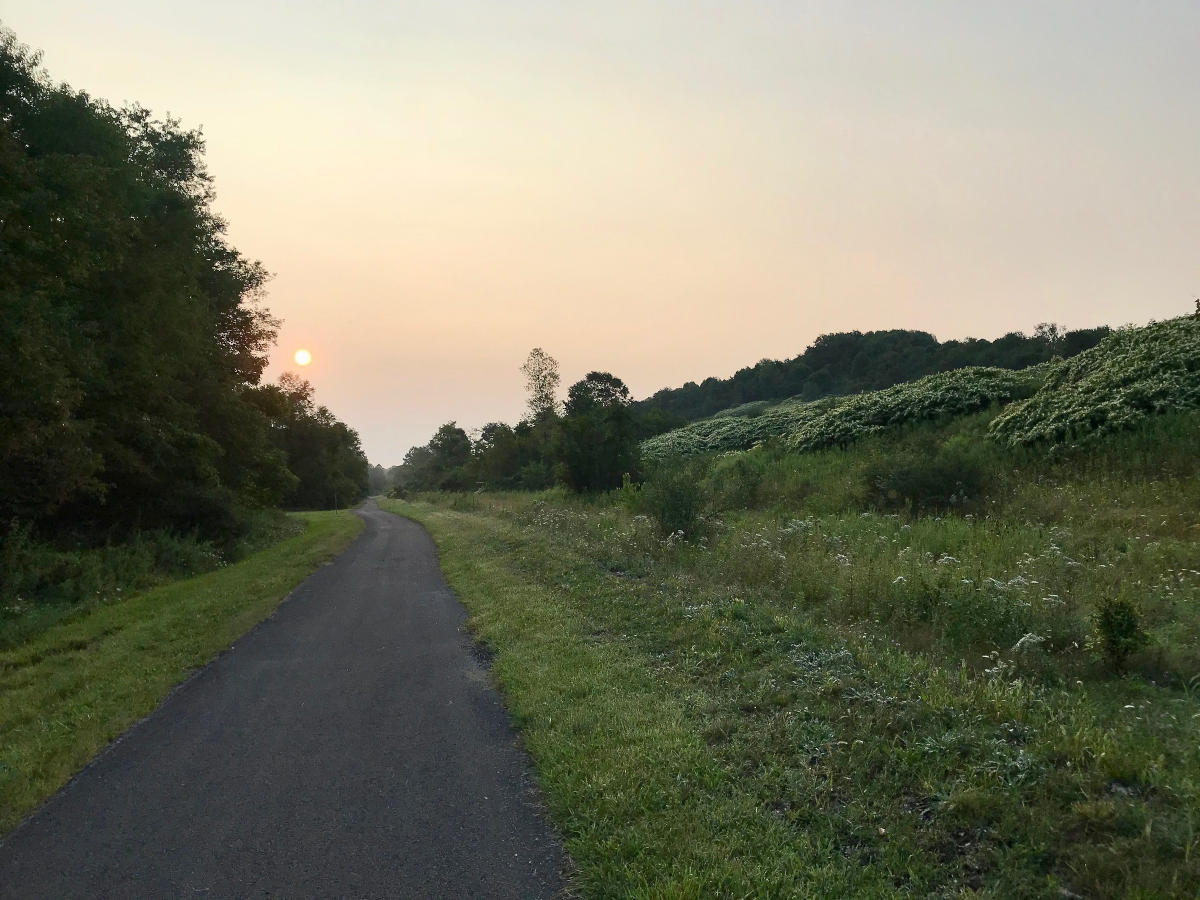 McDonald Trail Station & History Center reopens for the season on April 2. It's an important stop for people using local trails and it keeps local history alive.
Located under the 900-foot McDonald trestle, the building is a multipurpose facility. Along with serving people using the local trails and offering local history exhibits, it holds a farmers market, provides a venue for community events and hosts a voting site.
Trail Station
The Panhandle Trail begins in Allegheny County, enters Washington County at McDonald and continues into West Virginia. The McDonald Trail Station is located adjacent to the Panhandle Trail access point. About a half mile out from McDonald, the Panhandle Trail intersects with the Montour Trail.
A portable toilet and picnic area are always available at the trail station. The welcome center itself is open from 10:00 AM to 3:00 PM on Saturdays from April through October. Tourism information and bathrooms are available at the Welcome Center.
Dozens of business are within walking distance of the station, including grocery and convenience stores, restaurants, bars and pharmacies. ATM machines are available. There's a bed and breakfast.
Rails-to-trails developments like the Montour and Panhandle Trails are good for the economy – people who use them buy food or drinks at local restaurants or bars, or spend money at local retailers. Across Pennsylvania, people who use trails contributed more than $900 million to the state's economy, a 2019 study by the Rails-To-Trails Conservancy found.
For people headed onto the trails from the McDonald trailhead, McDonald Trail Station & History Center provides 18 parking spaces. People can go west from McDonald towards WV for a paved trail that makes for a smooth path on the Panhandle Trail, or head east from McDonald on the Montour Trail's crushed limestone.
A great place to stop while riding the trail on weekends.

Posted to Yelp by Troy B., Bridgeville, PA
History Center
The History Center tells the story of McDonald through exhibits of hundreds of photos, news articles and historical artifacts. It was founded in 1775 by John McDonald. The railroad arrived as the Civil War ended. The borough benefited from the oil boom of the 1890s and coal mining.
The history center acknowledges local residents who achieved fame.
Jay Livingston, who co-wrote the Christmas song Silver Bells, the musical theme for the long-running TV show Bonanza and other songs, was born in McDonald. Livingston was inducted into the Songwriters Hall of Fame. A historical marker has been placed in McDonald honoring his achievements.
Livingston's brother, Alan, who created Bozo the Clown and brought the Beatles to America
NFL coaches Martin Schottenheimer and Marvin Lewis
Mitzie Welch, who co-wrote episodes of the Carol Burnett Show
What history center is complete without a gift shop? Memorabilia can be purchased. Arrangements can be made to deliver to people who live out of town.
Other Uses
The center's large meeting room is available for people to rent for meetings, showers, parties, reunions and similar events. Rental comes with tables, chairs and a kitchen.
It's a cute little building that can be rented out for parties, etc.

Posted to Yelp by Karla D., Pittsburgh, PA
The McDonald Farmers Market is held at the McDonald Trail Station and History Center Saturday mornings from the middle of July through September.
McDonald Area Redevelopment Association
The McDonald Area Redevelopment Association (MARA) is a nonprofit organization that owns and operates the Trail Station and History Center. MARA is run by volunteers who work with the borough, McDonald Volunteer Fire Department, Washington County Parks and Recreation Department and Washington County Tourism to promote the Panhandle and Montour Trails, and develop community projects.
McDonald Trail Station and History Center is open from 10:00 AM until 3:00 PM on Saturdays from April through October. People who want to look through the history of McDonald, or walkers, hikers and bikers on the two trails who want to access to the facility should stop by on Saturdays during spring, summer and early fall.
This article was published in