Marcellus Shale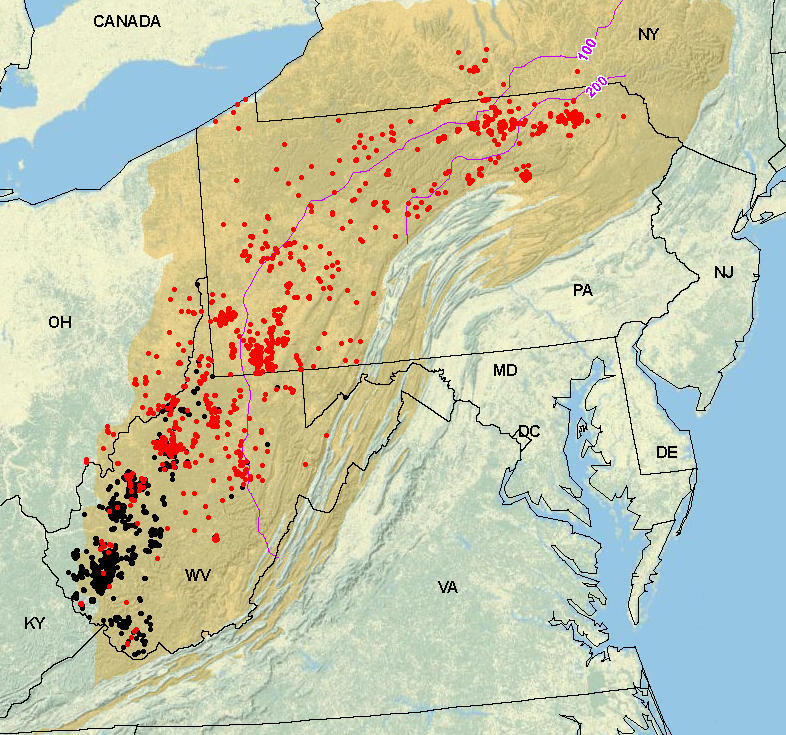 Marcellus Shale is a black rock that is buried deep underground, mostly in Appalachia. It has a low-density. It can be broken apart. It's 50 feet to 900 feet thick. Macellus Shale was identified in the early 1800s. For more than 150 years, it wasn't exciting in terms of energy.
In the closing years of the 20th century, the hydraulic fracturing process was developed. Called fracking, water, chemicals and sand are injected into wells. The process creates fractures in surrounding shale rock, allowing hydrocarbons such as natural gas to escape. The method lowered the cost of drilling for natural gas, creating a new boom in North American oil and gas production. Hydraulic fracturing became the way to drill for unconventional oil and gas resources.
A few years past the turn of the century, Range Resources started the commercial exploitation of Marcellus Shale by drilling a well in Washington County. They discovered a promising flow of natural gas. Relying on horizontal drilling, which allows vertical wells to turn sideways underground, and hydraulic fracturing methods that worked in Texas, production from that first Marcellus well began in 2005.
Average annual pay in the oil and natural gas industry grew faster that the economy as a whole. By 2012, the average pay to oil and natural gas workers was much higher than pay across all industries.
"The growth in shale gas production in Pennsylvania has revived the state's important role in the nation's oil and natural gas industry," according to a U.S. Bureau of Labor Statistics report in 2014.
Landowners who owned their mineral rights were approached with offers to lease their land. Signing bonuses, some of them out-sized, were paid. Royalties – a percentage of the income from a well – were high. Production levels from Marcellus Shale wells can fall rapidly, bringing in lower revenues.
In 2018, $560 million in investments were made in Washington County. "The vast majority of that new investment is tied directly or indirectly to the Marcellus Shale industry," according to Marcellus Drilling News.
In 2019 total unconventional gas production in Pennsylvania continued to increase to 6.8 trillion cubic feet, compared to 6.1 trillion cubic feet in 2018.
Marcellus Shale was "a major driver of the fracing (sic) boom that's driven down prices and helped to make the U.S. a net exporter of the fuel for the first time," World Oil Magazine wrote in 2020.
The Washington Oil Field is located in the Marcellus Shale region. Due to the new fracking method, Washington County became central to the rebirth of the resource extraction industry.
The PA Department of Environmental Protection regulates the exploration, development and recovery of natural gas from Marcellus Shale. The Department issues drilling permits, inspects drilling operations and responds to complaints about water quality.
Marcellus Shale occurs below the surface of most of Pennsylvania, West Virginia, eastern Ohio and western New York. Small areas of Maryland, Kentucky, Tennessee, and Virginia also have Marcellus Shale in their ground.
This article was published in