Hunt, Hike & Enjoy Nature At Hillman State Park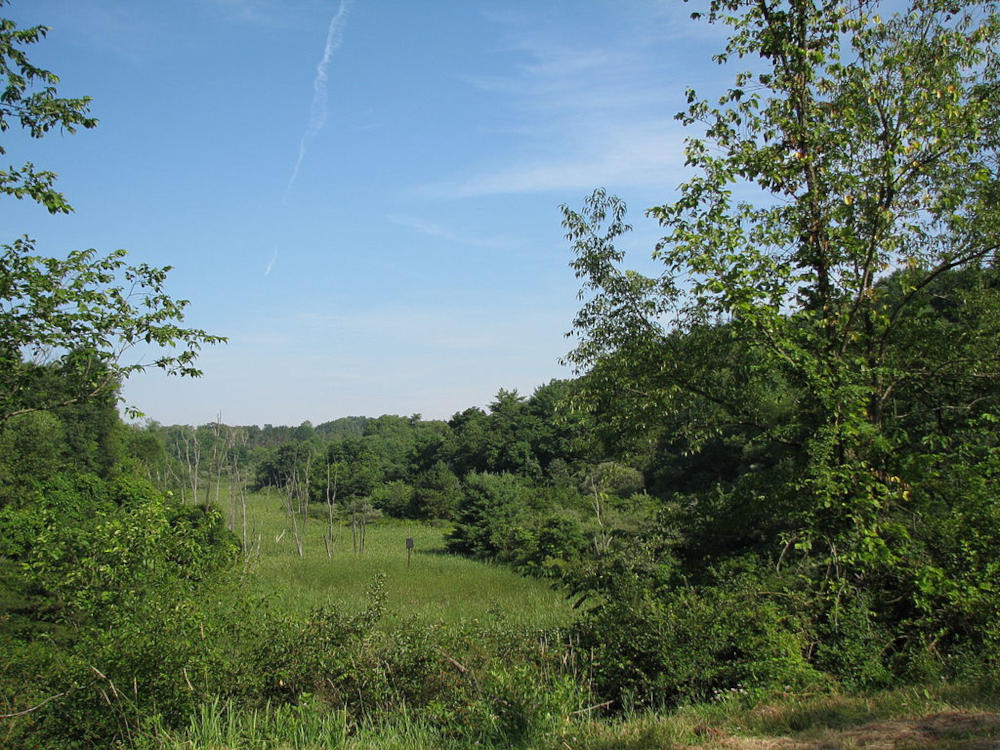 Hillman State Park is a largely undeveloped state park that offers trails and hunting near Burgettstown in northern Washington County.
The 3,700 acres that make up the park connect two watersheds. It is situated in a wild area of the Allegheny Plateau that is also part of the Appalachian mixed mesophytic forests ecoregion, making it an ideal space to getaway from everything for a few hours.
The Pennsylvania Game Commission manages Hillman State Park for hunting. Part of the park has been designated as Pennsylvania State Game Lands 117. Hiking may be limited on state game lands during hunting seasons.
Trails
The park's trails are open to the public for walking, hiking, running, mountain bike trails and horseback riding. Keep an eye on trail markers to avoid getting lost.
Figure 8 Trail and Pitch Pine Trail provide an easy, 1-hour hiking loop. The wildflowers can turn a hike into a nature trip. There won't be too many people. Watch out for runners.
Airport South Trail can turn into another casual nature walk. It can be hiked in under an hour.
Still not enough wildflowers? The ones at Wetlands Trail and Old Mare Trail are beautiful. Share the trail with runners and – like the name suggests – people riding horseback.
Sprocket Trail is an easy loop to hike. Dogs and horses are welcome, and there's aren't too many people. It can be overgrown at times, providing a back-to-nature feel:
Great hiking trail! A lot of it is walking through evergreens with needles under your feet…smells so nice. Little elevation changes along the way which makes it nice.

Posted to AllTrails by Morgan Bailey
Airport West Trail provides a good workout for training to run a 5k with the run/walk method: Stretch, warm up with a five-minute walk, run, cool down by walking, repeat.
Bird Watching
Birding happens in the park and at nearby hotspots.
Short 'n' Sweet Trail and Colt Trail is for the birds – literally for the birds. Bird watchers will enjoy a loop that takes about an hour to complete.
Meadow Trail is for people who take extended walks to see birds and wildflowers. Bring the kids – it's an easy mile and a half long loop.
Biking
Abby's Trail is an out-and-back path. For some people, it's better than a loop – when they've done half the distance they can manage, they turn back. Walk to the right. People riding mountain bikes will sound an alert before passing to the left.
People biking or walking Switchback, Abby, Haul and Van Gorder Trails Loop can see a lake. It takes three hours to walk, although people on bikes finish faster. Enough people use the trail to make it easy to follow. Dogs are welcomed provided they're leashed.
Fly A Model Plane
Fly a remote-controlled airplane at the K. Leroy Irvis Radio Control Model Airport. The model airport features asphalt runways and taxiing, wind sock poles, a covered shelter, parking and a spectator area.
Users must have an FCC license and Academy of Model Aeronautics membership. Register at Raccoon Creek State Park.
Covered Bridge
Lyle Covered Bridge, located at the eastern border of the park, is a queenpost truss structure: there are two central supporting posts. It is painted red. The walls have windows.
The bridge is designated an historic bridge by the Washington County History & Landmarks Foundation and is listed on the National Register of Historic Places. It was built in 1887 and is owned by Washington County.
History
Underneath the land was the Florence-Five Points Oil Field, which was one of the most productive oil fields in southwestern PA during the boom time in the late 1800s and early 1900s. Many abandoned oil wells exist in the area. 28 active wells remain.
Coal mining started in the early 1900s. The area was heavily mined by Harmon Creek Coal Company, which restored the area, planting two million trees, grass and other plants. The company brought pheasants to the area for hunting, and stocked lakes and ponds. Hillman State Park and Cross Creek County Park are still stocked with ring-necked pheasant.
In the late 1960s, Harmon Creek Coal Company donated the 3,700 acres that became Hillman State Park. The state spent significantly to erase remaining scars to the land and waters caused by mining.
Hillman State Park has been managed for hunting by the Pennsylvania Game Commission since the early 1980s.
Closing
AllTrails lists nine trails at the park. Their site includes reviews and photos to check out before going.
Experienced hikers may enjoy hiking off-trail.
The park is accessible. People who need accommodations to participate in park activities are asked to contact Raccoon Creek State Park.
Hillman State Park is open from dawn to dusk. The state's Department of Conservation & Natural Resources offers an interactive map that can help people find park amenities.
The park is located 40 minutes north of Washington, PA near Burgettstown. To reach the park from Washington, follow North Main Street for a little over three miles, turn left onto Oak Grove Road, then right onto State Route 18 north. Follow Route 18 for about a half hour, turning right onto Bavington Road. Bavington Road passes State Game Lands 117. Turn left onto Steubenville Pike, which roughly follows the southern border of the park.
With hunting and nine trails for nature walks, bird watching, horseback riding, hiking, running or mountain bike riding, Hillman State Park is a place to work out while taking in wildlife, birds and wildflowers in their own habitat.
This article was published in