Goodwill Industries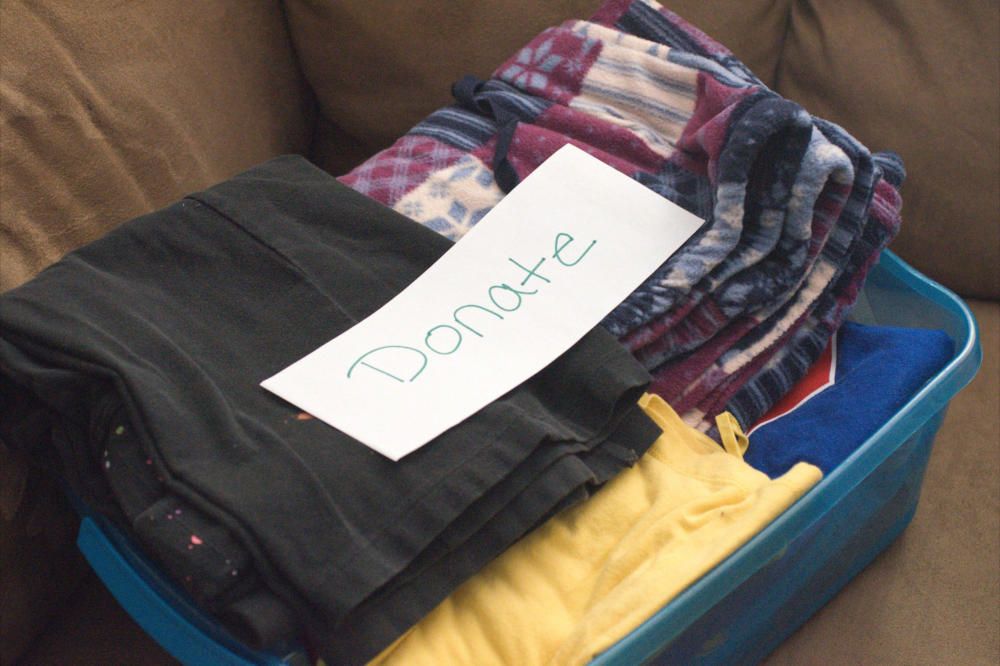 The Goodwill Industries thrift store in Washington, PA is always accepting donations.
"We do get a lot of donations," Store Manager Eric Stunkard said, especially when the weather is good. More donations of new & gently used items means more sales in the store.
How they accept donations at the local Goodwill changed during the coronavirus pandemic of 2020/2021. Boxes are set out that are labeled by category. People are asked to place their donations in the right box. Large furniture donations are no longer accepted. The new approach limits contact. The donations system changes during inclement weather. Employees wear gloves while processing donations.
People who itemize on their federal taxes may deduct the fair market value of clothing, household goods, books & other items that they donate.
The pandemic changed how people shop at Goodwill. "My customer count has been lower, but customers seem to be buying more," Stunkard said.
Sales can be the lifeblood of thrift shops. Every article of clothing or other item at the Goodwill has a colored bar or sticker. Each week, one color is on sale for 50% off from Monday through Saturday, & on Sunday, everything that was 50% off during the past week becomes only 99 cents. Five colors are used – items go on sale after they've been up for about a month.
If it isn't sold after the five-week time limit, it goes to a Buy The Pound store, where like the name says, it gets sold by the pound. Clothing that isn't sold by the pound goes to a Goodwill auction & then onto a textile recycling organization. The system makes Goodwill Industries a way to recycle clothes instead of sending them directly to the landfill.
Mondays are Senior Days at Goodwill. On Tuesdays, college students, teachers, military, medical professionals & first responders get 25% off. That's "25% off everything that is not already 50% off," Stunkard pointed out. Proper ID is required to receive the discounts.
Goodwill Industries offers a customer loyalty program called GoodPerks. Customers sign up at the store with their email address. They receive exclusive coupons & access to flash sales. They're also notified of seasonal sales, like Back To School.
Who shops at thrift stores? "Resale shopping attracts consumers from all economic levels. There is no typical resale shopper … No one is immune to the excitement of finding a treasure & saving money," the The Association of Resale Professionals wrote.
Goodwill uses the revenue for its thrift stores to provide employment training & job placement services, Goodwill Industries International stated on their website. The Washington Goodwill employs 20 to 25 full-time & part-time people. The number changes seasonally.
Goodwill is a great place to work & they have great team work values. I learned how they sort items in the sorting area. I learned that a certain goal has to be reached daily. Management is amazing.

Posted to Indeed by a former cashier
During the pandemic, a schedule was implemented to wipe everything clean that is touched in the retail area. Employees & customers were required to wear a mask. One way aisles were set up. Plexiglas was installed at the registers to limit possible virus transmission between cashiers & customers.
With thousands of thrift stores across the country, Goodwill Industries is one of the biggest places to drop off donated clothes in the U.S. Goodwill accounts for about one-third of thrift store revenues in the country. They are organized regionally into nonprofit organizations. The Washington store is owned by Goodwill of Southwestern Pennsylvania.
The Goodwill Industries thrift store is located at 89 Jefferson Avenue, Washington, PA 15301. There is plenty of parking, including bike parking. The location is wheelchair accessible.
This article was published in