Riding The Local A Bus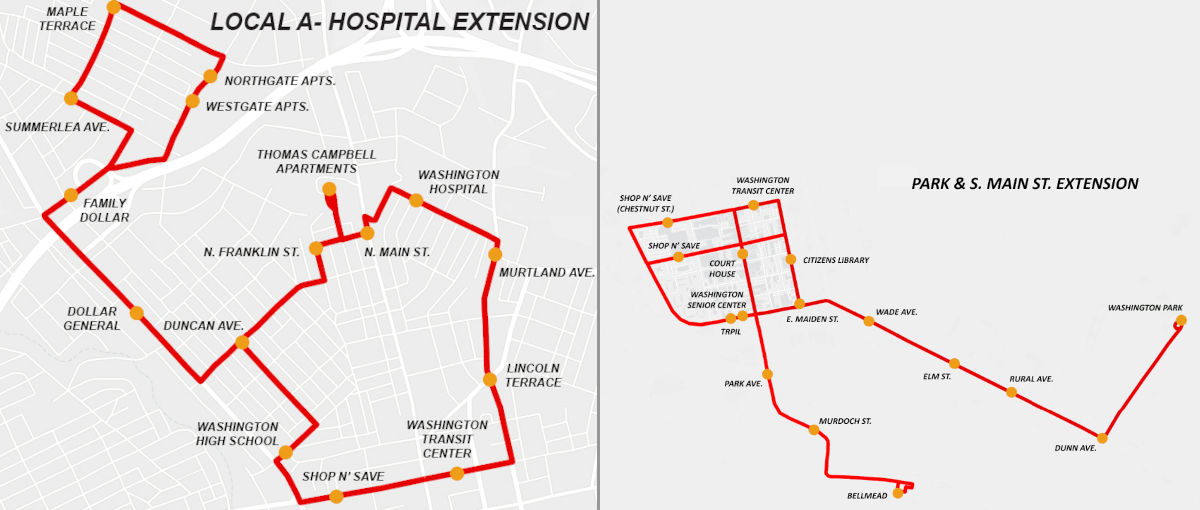 The Local A Freedom Transit route provides bus service to the City of Washington, PA including Washington Hospital, several apartment buildings, the Senior Center and Washington Park.
The Local A runs a mostly north-south route with many stops in downtown Washington, as can be seen on the Washingtonish.com map. Map markers are approximate. Consult the Local A Bus Service page at Freedom Transit's website.
The Local A's first run leaves the Transit Center at 7:00 in the morning. It departs once an hour after that except the bus doesn't start a route in the 1:00 hour. The Transit Center is the local bus hub. Many routes start and finish there.
The Local A reaches the Washington Hospital – a major local employer with a busy emergency room, diagnostic tests, surgeries, and women's health and maternity – just after 7:00 and approximately hourly after that

Continuing north, the Local A stops at Thomas Campbell Apartments, Maple Terrace Apartments and Northgate/Westgate Apartments before returning to the Transit Center

The Local A is scheduled to arrive at Washington High School ten minutes before the start of the school day and ten minutes after the school day ends. From there it continues onto the Washington Shop N' Save, a locally-owned supermarket
Every other hour, the bus does the Bellmead run.
The Bellmead run goes to TRPIL, short for Transitional Paths to Independent Living, which works to remove barriers commonly experienced by people with disabilities, and provides programs, services and information on equal access, assistive technology, education, employment, housing and transportation

The route continues onto Bellmead Apartments, which provides affordable senior housing for income-qualified seniors through the Presbyterian SeniorCare Network

The bus stops at the Washington Senior Center, which provides a range of service for people over sixty – socializing, lunches for a $2 donation (the bus reaches the center in time for lunch), physical fitness activities, WiFi and learning to use computers, playing bingo and cards, throwing darts, shooting pool, drawing and painting
The Senior Center stop is still relatively unknown. We'd like to get the word out that Freedom Transit connects people at the Senior Center.

Alexandra Sakalik, Outreach And Marketing Coordinator for Freedom Transit
On the other alternating hours, the bus passes the library on its way to Washington Park.
Citizens Library lends books, offers children's programs, and helps immigrant and ESL families, people with special needs, and adult literacy students a starting point for their learning, social and informational needs

After the library it's onto Washington Park with playgrounds, a 2½ mile trail loop for walking, hiking, trail running, nature trips and biking, a community swimming pool, baseball and softball fields, tennis and pickleball courts, and historic buildings

The Local A stops every other hour at the Washington County Courthouse, where civil and criminal court sessions are held, and vital records are kept
Freedom Transit operates under a flag stop system for routes in Washington County. People don't have to wait at an established stop to board a bus. They have to be on the correct side of the road, in the direction the bus is traveling, and wave their arm so the bus driver sees them in time to stop safely.
A one-way fare on the Local A is $1.50 – less when a package of 10 or 31 trips is purchased in advance on their mobile app. The Port Authority of Allegheny County's ConnectCard can also be used. Local transfers are free. Children under 12, and seniors 65 and older ride for free. People on Medicare or who have a disability ride at half-price.
Freedom Transit is the generally used name for the Washington County Transportation Authority, a public transportation agency that provides bus and shared ride services to much of Washington County, and provides a commuter bus into downtown Pittsburgh. Buses run Monday through Saturday from 6:00 AM until 8:00 PM except on major holidays providing public transportation for people to get to work, school, medical appointments and shopping.
This article was published in