Go Fly A Remote Control Plane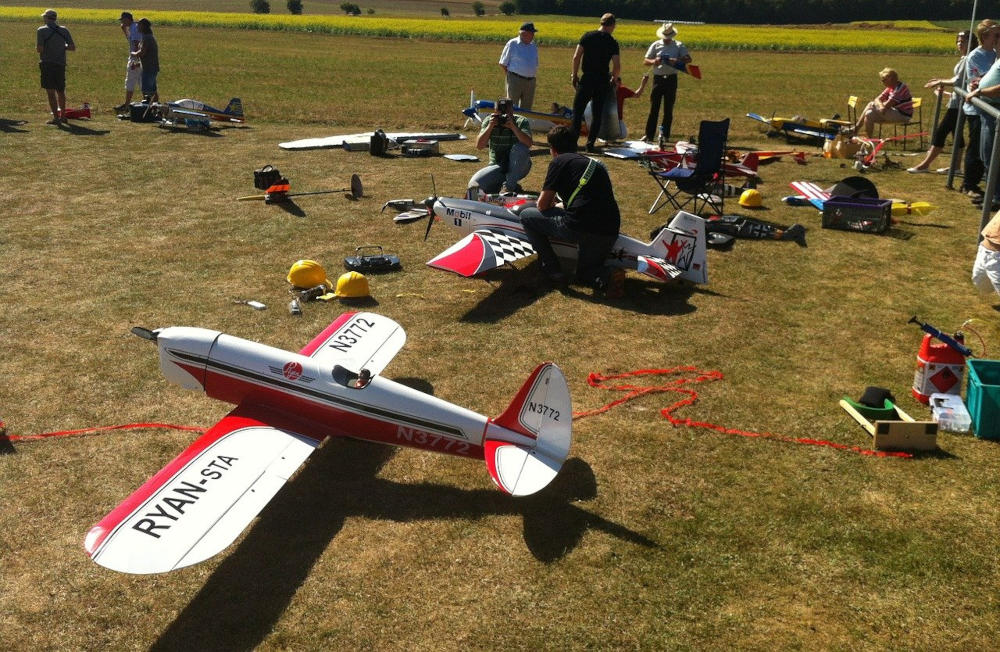 Getting a remote control model plane into the air and keeping it there is exciting for people who fly out of a model airfield in the Washington County area.
People have piloted model aircraft remotely for a long time.
For me, it started over 30 years ago with my son learning to fly together. It's a great father and son hobby and it gave us the opportunity to do something together.

Paul "Tom" Dunn, President, Greater Pittsburgh ARCS
The steps to becoming a new pilot seem simple – find an airfield, meet people who can teach the hobby to a newcomer, buy an aircraft, learn by watching someone else fly it and fly solo.
R/C model plane enthusiasts recommend joining the Academy of Model Aeronautics (AMA) as the first step. Membership provides hefty liability insurance coverage that model airports require.
The second step is to find an R/C model airfield used by experienced fliers who can help a novice out. Showing up before building or buying a model aircraft allows people to learn the etiquette of R/C flying in general and the club in particular.
A lot of people buy the wrong things for a beginner. We can help guide them and set it up properly once they get it.

Bill Bissell, President, Washington County Model Aviation Association
"I agree that it is a very good idea to visit a flying site to see and understand what's involved in flying model airplanes. During this visit they will have the opportunity to talk with some of the model pilots to ask questions about their personal experiences and also see some of the basic equipment needed to get started in the hobby," Dunn wrote in an email.
The Washington County Model Aviation Association is the nearest club to Washington, PA. Their members fly a variety of model aircraft off a grass runway in a secluded area of Mingo Creek County Park.
Having a grass runaway makes the Mingo Creek Park field attractive to flying larger planes. The grass helps slow them down, and it's soft on a plane if it bounces or lands hard.
Fliers there must have a park permit. It costs $10 and requires an AMA membership. Joining the club is not essential but makes annual renewals easier and adds to the camaraderie.
Saturday and Sunday mornings are the best time to show up. "It's a morning field and it has everything to do with the sun," Bissell said. At the Mingo Creek field, the sun is at your back from around 7:00 AM until 11:00 AM. People who come to the park during those hours on weekends are likely to meet club members flying planes.
Forty minutes north of Washington in Hillman State Park is the K. Leroy Irvis Radio Control Model Airport. It has two paved runways, wind sock poles, a covered shelter, parking, spectator area and a port-a-john. It is operated by the Greater Pittsburgh Aero Radio Control Society (Greater Pittsburgh ARCS) and is referred to as the ARCS field.
ARCS members fly anything:
very small electric models that weigh a few ounces, turbine powered jets, gliders, scale models, sport models, glow, gas, electric

Greater Pittsburgh ARCS
Users must have an FCC license and AMA membership, and register at Raccoon Creek State Park.
Three other remote control clubs operate airfields in neighboring counties.
S.P.A.R.K.S. flies out of South Park, Allegheny County, from March to Thanksgiving, depending on the weather. Their model airfield has an asphalt runway, and a grass field for landing the bigger planes that fly at South Park. The sun is in the eyes until around 3:00 PM, making it an evening field. An AMA license is required to fly. They hold instructional nights for people new to the hobby.
The Mon Valley R/C Club flies out of Cedar Creek Park in Rostraver Township, Allegheny County. More than 100 members build and fly radio control model aircraft, including helicopters.
Wheeling Hill Hoppers in Ohio County, West Virginia has seasoned and new pilots who fly helicopters, scale aircraft, hand-built models, helicopters and quadcopters. In early September, they organized an air show.
Having joined the AMA, found a model airfield and watched how everything works, the third step for new R/C model plane hobbyists is to build or buy an aircraft. Starting with a novice plane is recommended for practice until learning R/C model plane flying well enough to move to something bigger or more complex.
A kit usually includes a blueprint, balsa and plywood, and the hardware needed to build the frame. Material to cover the frame, radio gear, the engine/motor and accessories are extra.
Kits aren't as popular as they used to be because of the "influx and wide availability of good quality pre-built rc planes," R/C Airplane World wrote. A prebuilt training plane can be purchased online for under $300. Fliers at a local airfield can suggest a starter model.
The fourth step is to return to the airfield and let experienced hobbyists show how to use the new aircraft – something veteran fliers are willing to do for free. Their help can keep someone from crashing their new $300 air machine.
The final step is to fly solo.
Learning about why a plane flies a certain way and trying to to master them after that is challenging. There's a thrill to having an airplane in the air.

Bill Bissell
The first time someone makes their model aircraft fly into the air on their own can be the best part of it. They fly an aircraft. They make it move through the air. They're a pilot.
This article was published in