Ebenezer Covered Bridge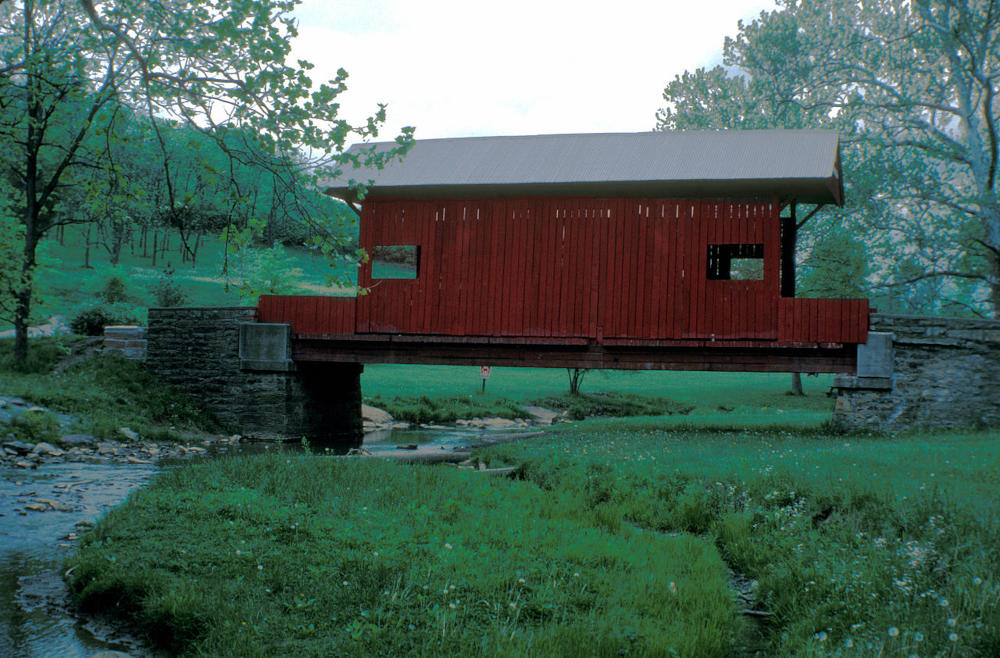 Drive across an historic covered bridge at Mingo Creek County Park.
The Ebenezer Covered Bridge is 32 feet long and 12 feet wide. Vertical boards cover the sides. It is painted barn red. It has two windows on each side. The roof covers only a part of the bridge.
The bridge used to cross the South Fork of Maple Creek. It is unknown when it was built. It was sold to Washington County in 1977 as part of the construction of Interstate 70.
The bridge was moved to Mingo Creek County Park and placed on the abutments of an earlier bridge across Mingo Creek, according to the National Register nomination form for the bridge. It was renovated – the deck was reinforced with I-beams and covered with new planks. It has a sheet metal roof. Its condition is listed as "Good, but altered".
The bridge is designated a historic bridge by the Washington County History & Landmarks Foundation.
The reason bridges were covered was "to protect the structure supporting the bridge. Without protection from the weather, the wooden timbers supporting the bridge would decay and eventually collapse. By keeping them dry, they will last much longer," according to the National Society for the Preservation of Covered Bridges. Uncovered wooden bridges typically lasted only 20 years because of the weather. Pennsylvania has the most covered bridges of any state – 213 of them.
A covered bridge covers and protects the truss. A truss is a bunch of wooden beams that make up the bridge. The Ebenezer Covered Bridge is a queenpost truss. A queenpost truss uses two central supporting posts. How the bridge was constructed to last as long as it has can be seen in person anytime Mingo Creek Park is open, and especially during the annual Covered Bridges Festival held annually in September.
The Ebenezer Covered Bridge is located in the southwest of Mingo Creek County Park, where the Henry Covered Bridge is also located. The Ebenezer Covered Bridge is about one mile from the park's West Entrance. Parking is available in a large lot at one end of the bridge.
This article was published in