Disc Golf At Mingo Creek County Park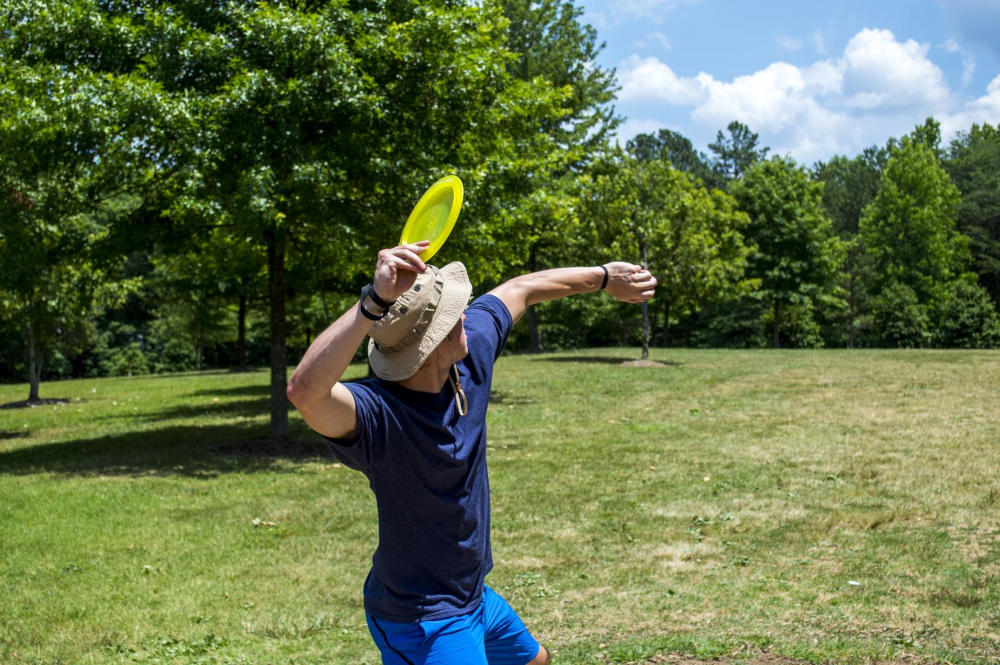 Families can play golf by tossing a Frisbee on a disc golf course at Mingo Creek County Park in Washington County, PA.
The park's nine-hole – or 9-basket – disc golf course is played along a loop. The course is designed for families with children. It provides an activity that county residents can go out to, touch & enjoy in person, the county commissioners told the Mon Valley Independent.
The park has flying discs that people can borrow, or they can bring their own. A variety of discs are available in stores & online. Discs can be easily lost on a few holes. People are encouraged to keep an eye on where they land.
The disc golf course opened in 2020. The course, other park amenities & improvements were made using revenue brought into the county from natural gas leases.
The facility was rated moderately hilly & moderately wooded by DG Course Review, which gave it 2½ stars out of five.
Park itself is gorgeous. Course has a couple great views. Tee boxes are awful. Dense vegetation – if you miss the fairway, expect a lot of jaggers.

Posted to UDisc by daveysin
Disc golf is played like golf, except that a Frisbee or other flying disc is used instead of a golf ball. The disc is tossed from the tee towards a disc golf basket that sits where the hole is located in golf. Players toss the disc several times until it lands in the basket. On each throw, players place their leading foot where the disc landed. The idea is to get the disc into the target in as few tries as possible. The number of tosses is recorded. Lowest score wins.
Like golf, don't throw when people are within range. Keep quiet & avoid unnecessary movements when someone is tossing their disc. Stand behind them until after they throw. Let faster groups play through. Take the disc out of the basket when done.
The disc golf course at Mingo Creek County Park is set up as a par three – three tosses should get the disc into the basket. That's not so likely to happen with inexperienced players or children. The course can be played through twice for a full 18 holes.
Disc golf has been around for about a hundred years. It has been a formalized sport since the 1970s. The Professional Disc Golf Association has more than 50,000 members. An estimated 2,500 disc golf course exist in the U.S. The U.S. Disc Golf Championship is the culmination of a week of activities in October. Disc golf is played by a lot of families for fun in their back yard & at parks across America.
Mingo Creek County Park is a large regional park located less than a half-hour from Washington. The park is filled with opportunities for activities. It has picnic shelters, playgrounds, a ball field, trails, an off-leash area for dogs, horseback loops & historic houses.
The disc golf course is opened from dawn to dusk during the summer. It is dog friendly – but keep dogs on their leashes when Frisbees are flying. The course loops around the Observatory. It's located near Shelter 10 & the Scout Camping Area in the northeastern part of Mingo Creek County Park at 1 Shelter 10 Road, Finleyville, PA 15332. There's plenty of parking. Restrooms & shelters are nearby.
This article was published in