Making The Most Of Southwest Washington County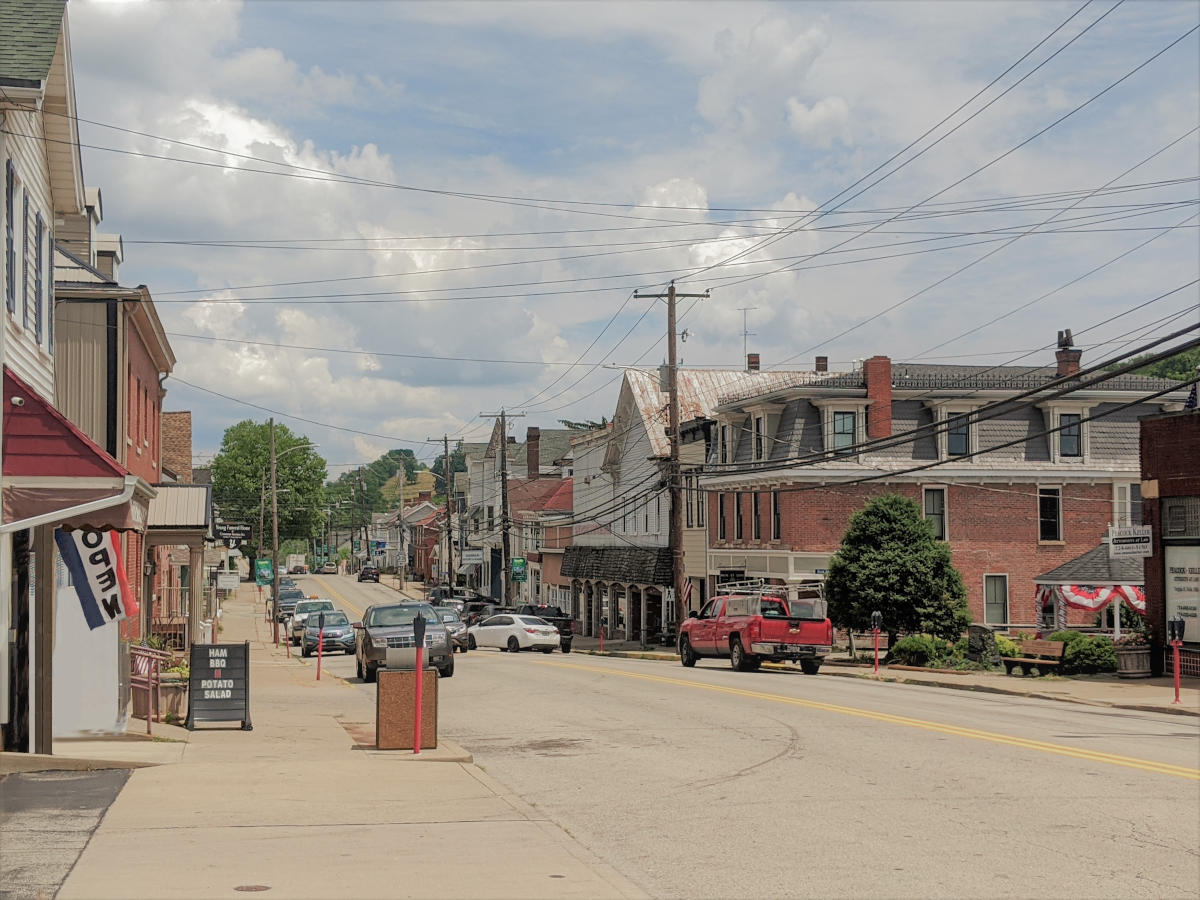 Southwest Washington County has been losing population and its tax base for years. A community effort is changing that.
Plans are being developed to tap into the resources of the Claysville area and improve the local economy without conflicting with residents' desires to preserve their slice of small town America.
"That's really why we're doing this, to be able to preserve our rural roots and small town hospitality," Rick Newton, a local business entrepreneur and vice president of the Claysville Area Business Association (CABA) said.
Southwest Washington County, the Claysville area or the McGuffey School District – however people refer to it, the area is filled with scenery, country roads, farmland, fresh air, friendly faces and historic public spaces including downtown Claysville, McGuffey Community Park, Interstate 70, the old National Pike, West Alexander Historic District, Dutch Fork Lake and Blaney Mays covered bridge.
Living in a safe, healthy community was most important to people in southwest Washington County who recently took a survey as part of developing plans to improve the area. The beautiful countryside, sense of community and friendliness also scored high. Seven out of ten people responded that having a great school district is important.
One focus of the planning is how to develop downtown Claysville, which is the region's economic center. Claysville offers a traditional downtown shopping experience. It's the only main street business district along I-70 from Washington west to the West Virginia border.
Infrastructure is being addressed in the plan – water, sewage and broadband.
In Washington County, 91% of the population has access to broadband. In the McGuffey School District, that number is less than 5%. When students stayed home from school during the height of the coronavirus pandemic, they couldn't use Zoom-type video services well enough to stay on top of their education. In the same recent local survey, people responded that they need broadband.
The Infrastructure Investment and Jobs Act of 2021 acknowledged that the digital divide disproportionately affects rural areas like southwest Washington County and included substantial funding for broadband. The federal act was implemented in PA with the establishment of the Pennsylvania Broadband Development Authority to build new towers, construct new lines and pay for broadband equipment. Implementing broadband locally can take three to five years.
Better parks and recreation assets are being addressed in the planning. The final plan could call for improvements to township parks. Boat launches, hiking trails and picnic areas could be improved at Dutch Fork Lake. Look for more convenient access to the PA Game Lands, more parking there and visible signage to help people find the game lands.
People have been clear about protecting the country charm of southwest Washington County. Not a lot is grown in the area except trees. Businesses have been lost. Agriculture-related economic development could help – "things like farm-to-table, food supply, restaurants, farmers markets, and people visiting the farms for educational purposes," Newton said.
Keeping the rural nature of the area leaves room for economic development around the I-70 and Route 40 corridor around the exits. Business leaders would like to see retail and commercial businesses with a good fit, such as a tractor dealership, a hotel and restaurants. Businesses like that need broadband to locate at an exit. Claysville has high speed internet, but right outside the borough at the exit, coverage is spotty.
What people are very amenable to is the development of the exits and the I-70 and Route 40 corridor, keeping the rural area pristine.

Rick Newton
337 local people took the survey online or completed a paper form from mid-September to mid-October, 2021. Many of them have lived in the area for more than 15 years, used to live in the Claysville area, or work at or run a business in the area but live somewhere else. All ages were represented.
The Claysville Area has been defined to include seven townships and two boroughs:
Blaine Township
Buffalo Township
Claysville Borough
Donegal Township
East Finley Township
Green Hills Borough
Morris Township
South Franklin Township
West Finley Township
Those municipalities make up the McGuffey School District. As part of the project, people are looking for ways that those municipalities and the McGuffey School District can work together to improve the area. The Association of Claysville Churches was also involved.
The area includes two historic districts that could be improved.
One of the downsides is the history of coal mining that brought prosperity to Washington County years ago. Homes have been undermined by voids created when coal was excavated. There's an active mine proposed to go underneath Dutch Fork Lake. "Some property has been purchased by mining companies that don't maintain them, leading to lower property values," Newton said. Low property values hurt the school district.
Economic development costs money. More than $100,000 in seed money was raised for a consultant, Newton said. Hiring a consultant – Herbert, Rowland & Grubic (HRG), involving local leaders and getting the survey done were steps towards bringing the bigger dollars needed to bring the vision to fruition.
Money to carry the project this far came from Claysville Area Business Association, the Claysville Area Preservation and Revitalization Initiative (CAPRI), which is part of CABA, Claysville Borough, Coen Oil, Community Bank, Curtis Pharmacy, Donegal Township, First Federal Savings & Loan of Greene County, McAdoo's Towing & Crane Service, TC Energy and WesBanco. Additional government grants and donations were made. Washington County Commissions and state representatives were engaged in the process.
It has taken 2½ years for complex, multi-faceted planning for southwest Washington County to get this far. The plan itself is scheduled to be released in January. It can lead to the bigger dollars to actually make the improvements.
This is the opportunity of a generation to stop the slow, decades-long decline of the area and provide the opportunities for people to continue to live in an area defined by country charm. Turning things around is a large vision that could take another five to eight years to implement.
This article was published in and updated in