Christian Association of Washington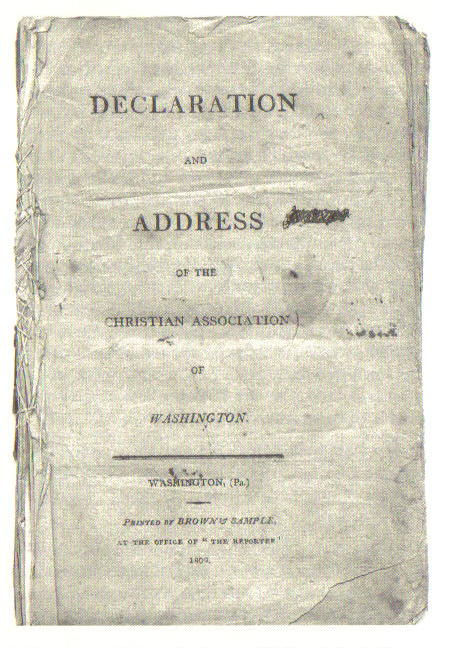 Following the American Revolution, a primitive form of Protestant Christianity was attractive to people living on the frontier – which Washington, PA was in those days.
Primitivism was the belief in a personal connection with God without a church hierarchy. It led to a religious revival that spread Christianity through emotional preaching. The revival was called the Second Great Awakening. New Protestant denominations sprang up, including Methodists, Baptists, Adventists & the Latter Day Saints.
The Second Great Awakening gave birth to an attempt to unify Protestant Christianity. The unification attempt was called the American Restoration. Part of the unification attempt unfolded in Washington County, PA.
Thomas Campbell immigrated from the British Isles, settled in the Washington area & preached his vision of what Christianity was like during its first hundred years as described in the New Testament. For Campbell, the Bible was only the standard. He was a Presbyterian minister whose church was affiliated with Baptists who didn't always feel comfortable with his beliefs. He played an important role in the Second Great Awakening.
Campbell founded the Christian Association of Washington. It wasn't suppposed to be a church. It was a study group that anyone could join to learn about common forms of Christianity that they felt people could agree on. They met in a log cabin, which was standard fare on the frontier.
The Declaration & Address of the Christian Association of Washington was published in the early 1800s.
for the sole purpose of promoting simple evangelical Christianity, free from all mixture of human opinions & inventions of men.
The Declaration & Address document didn't receive much attention when it was published. It became an important text of the Restoration Movement.
The study group became a church. It was located at Brush Run, a stream near Canonsburg. It was called the Brush Run Church. It was denied affiliation with the Presbyterian Church. It was independent. It became affiliated with Baptists. It was a center of activity for the Restoration Movement for reforming frontier Christianity.
Their church structure was built to be disassembled & moved. It became a blacksmith's shop. It was used as a post office. It was a barn. In the late 1820s, it was moved to what is now Bethany, West Virginia. Eventually the building deteriorated & was torn down. A stone marker has been placed at the former location of the church near Brush Run.
The movement that Campbell started in Washington splintered into the Christian Church (Disciples of Christ), the Churches of Christ & independent Christian Church/Church of Christ congregations.
As society changed following the American Revolution, Protestant Christianity fragmented during revivals. Attempts to unify the religion – including a major movement centered in Washington County – led ultimately to more splits.
This article was published in