The Bradford House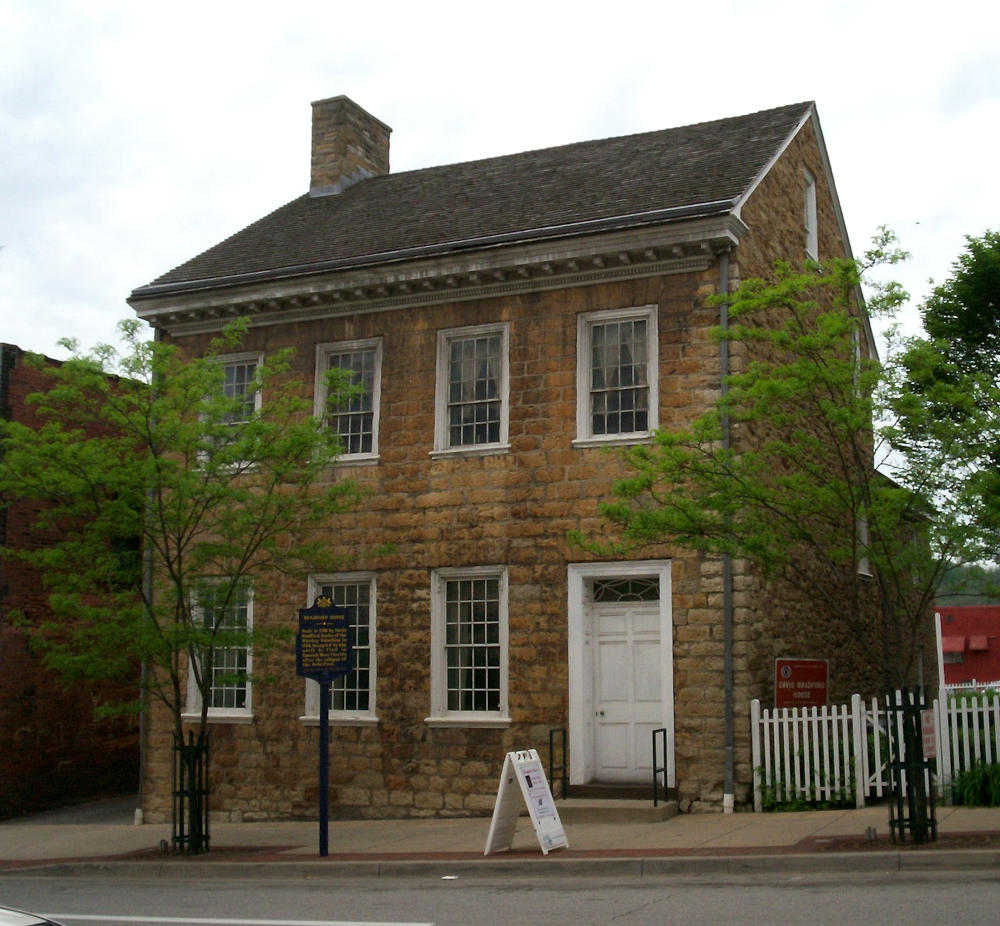 The Bradford house in Washington, PA, was built by a local businessman and lawyer who became a leader of the Whiskey Rebellion.
In the 1780s, David Bradford built a stone house at 175 South Main Street in Washington. Western Pennsylvania was the western frontier of the young country. By the standards of the day – when most homes on the frontier were log houses – it was a mansion.
By the 1790s, the federal government needed money to pay off debt from the Revolutionary War. The government imposed a tax on distilled spirits, including whiskey. Farmers in Western Pennsylvania turned their surplus grain into whiskey, which was easy to transport and often used for money. War veterans, believing they fought for the same principles that led to the revolution, protested the tax and violently kept federal officials from collecting it. Bradford was among the leaders. President Washington sent officials to negotiate with the rebels, called upon state militias to enforce the tax and led the resulting army to suppress the resistance. The rebels dispersed. The confrontation ended.
Hearing word that federal troops would arrest him, David Bradford and his family left the area. Eventually, Bradford was pardoned. Everyone who was arrested for their role in the Whiskey Rebellion was acquitted or pardoned.
The house served as a furniture store. It fell into disrepair but was renovated by the Pennsylvania Historical and Museum Commission. It was furnished how someone of Bradford's stature might have lived then. A well house like might have existed in the late 18th century was added by the museum after an old well was uncovered. Similarly, a log kitchen was added behind the old stone house. There is an 18th century style garden.
The Bradford House Historical Association refers to the structure as "an 18th Century architectural showpiece". The home is designated a National Historic Landmark. The Washington County History and Landmarks Foundation named it an historic public landmark. Today the stone house is the Bradford House Museum. It is overseen by the nonprofit Bradford House Historical Association. Volunteers teach the history of the Bradford House.
The museum was closed for part of 2020 during the coronavirus. The association reopened the museum at 50% capacity, implemented social distancing policies and took measures to ensure that spaces are sanitary.
The association opened a second museum across the street. The Whiskey Rebellion Education And Visitor Center teaches people about the Whiskey Rebellion with exhibits that can be touched, artifacts and an historical timeline.
From April through November, the Bradford House Museum is open Wednesday to Saturday from 10:00 AM until 4:00 PM. It is closed on holidays. Admission is $5.00 per person. Calendars illustrated with historical sites help to fund the operation.
The Bradford House Museum is located at 175 South Main Street, Washington, PA.
This article was published in